Wedding Planning
Wedding Checklist: 12 Months To Go, What To Do and Timeline
Our wedding checklist takes the stress out of wedding planning, leaving you more time to enjoy the fun parts, like cake tasting!
10 Min Read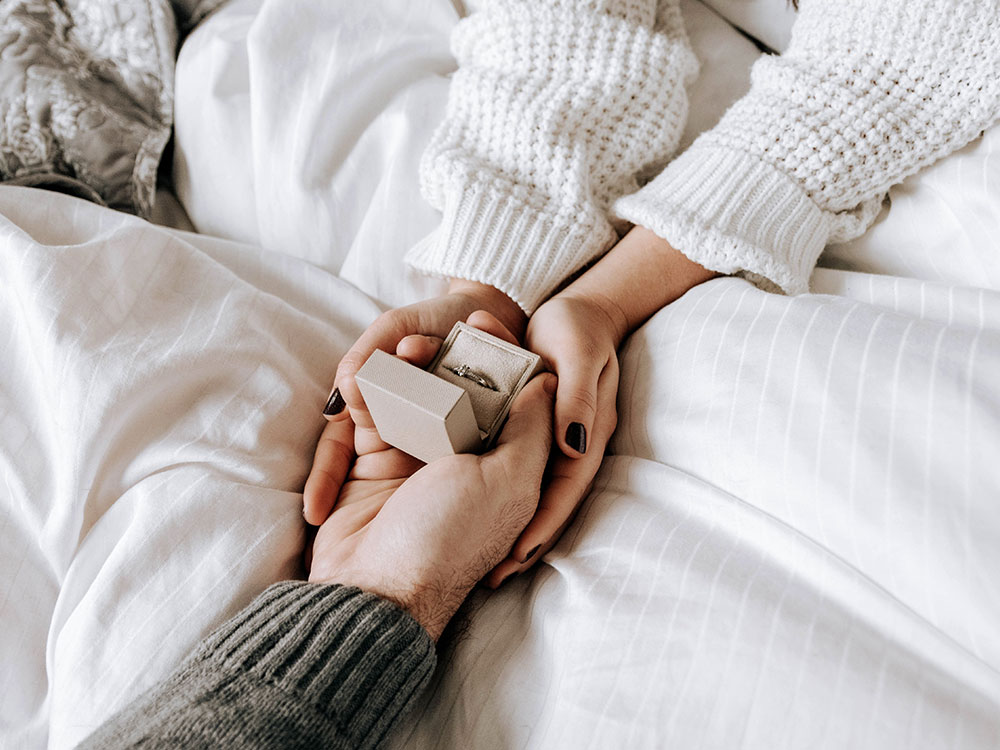 Firstly, congratulations! If you're here, chances are you're eager to start planning your big day with your forever person. When it comes to wedding planning, there can be a lot of information to absorb. Our wedding planning checklist and timeline breaks down this information into bitesize parts. So you can tackle wedding planning with structure and ease, leaving time to enjoy each step!
Our checklist uses a 12-month structure. Each couple's wedding planning journey is different, so don't worry if your engagement length differs. If you have less than 12 months to plan your wedding, our best advice is to prioritise the tasks that apply most to you. Your venue, wedding invitations, planners and vendors often need to be booked in advance, so focus on these first.
Download 12-Month Checklist
12 Months To Go
Finalise Your Wedding Budget
It's crunch time! Finalising your wedding budget is the first step to planning your special day. Once you have the exact numbers, use our budget breakdown guide to decide how much you'd like to spend on each section. And remember, you may need to adjust these numbers as you go along. We highly recommend starting a spreadsheet to keep track of your spending.
Create Your Guest List
Creating a guest list can be a little tricky. Sit down together, and think about how you'd like your wedding day to feel: would you like a big wedding? Or something a little more intimate? How much would you like to spend on each guest roughly? Answering these questions will give you a rough idea of your upper guest limit before deciding who has made the cut!
Wedding Insurance
We admit it: wedding insurance isn't the most exciting aspect of your wedding planning journey. However, it's definitely one of the smartest things you can do for your big day. Chances are that your wedding day will come and go without any need for insurance. But if you do happen to hit a snag that ends up impacting your day, insurance will save you a lot of money. Plus, it's not as expensive as you think it'll be! 
Related: Wedding Insurance: Where To Start And What To Think About
Pick Your Venue
Choosing your wedding venue is one of the most important - and exciting - parts of wedding planning. You'll have to consider your budget and guest list when searching for your dream location. We've put these things first on the checklist to allow plenty of time, so have fun with it! Pick a venue with your budget and guest list in mind - and you won't go wrong. 
Top tip: if you're unsure, we always recommend viewing a venue before you write it off completely. Sometimes it's all about how a location feels, which is hard to gauge online. If you're looking for wedding venue inspiration, explore Rock My Wedding's recommended suppliers. 
11 Months To Go
Hire a Wedding Planner
If your budget allows, hire a wedding planner. They'll be in charge of managing and guiding you through your wedding planning process, leaving you only to focus on all the fun things - like wedding cake tasting! You'll work side by side with your wedding planner, who will listen to your vision and make sure that your special day runs smoothly.
If you are hiring a wedding planner, we still recommend familiarising yourself with this checklist. It'll help you to know which areas to focus your wedding research on first.
Hire Wedding Suppliers Who Get Booked Up Quickly
Now's the time to hire your wedding vendors that get booked quickly: photographers, videographers and wedding entertainment all fall into this category. If you're looking for suppliers, head over to our friends at Rock My Wedding, an online wedding planning platform. They have a fabulous range of recommended suppliers for you to explore.
9 Months To Go
Start Your Gift List
Now's the time to register and start your wedding gift list - hurray! Setting up your registry in advance allows you time to sit together and really think about the gifts you'd love to have. Whether you're using your wedding registry to upgrade your home, start a honeymoon fund, or even learn a new hobby, you'll be wonderfully surprised by all the gifts you can add to your list! So, take your time and get exploring!
P.S. You'll want to have your gift list up and running by the time you send your wedding invitations. That way, you can let your guests know that if they wish to buy you a gift, you've set up a registry. 
Related: Wedding Gift Lists: What Exactly Are They?
Book Your Wedding Florist
There are endless possibilities when it comes to wedding flowers. They can set the tone of the whole ceremony, whether you want to go bold and bright or soft and romantic. Your wedding flowers will help pull your wedding theme together, and provide the backdrop for many of your wedding photos! 
Related: Wedding Flowers Checklist: Your Ultimate Guide
Say Yes to the Dress
It's time to grab your bridal squad and go dress shopping! It may seem a little early to do this, but custom-made bridal dresses typically take between six and nine months to make. You'll also have to fit in alteration appointments before your big day. Plus, unless you're that lucky person, finding your dream wedding dress normally takes time! You'll want to try on a good range of styles until you find *the* dress that makes you feel amazing. 
Choose Your Cake
It's time to get cake tasting! Whether you're going traditional or thinking outside the box, you'll want to organise and secure your wedding cake. Don't worry too much about your guests. Your choice should reflect the flavours you love as a couple. So have fun and get tasting!
Send Save the Dates
You've selected your wedding guests - now it's time to let them know you're tying the knot! Sending your save-the-date cards in advance allows guests to plan accordingly. You'll need to include your and your partner's names, wedding date, location and a notice for a formal invitation to follow. It may also be helpful to let your guests know if plus ones and children will be welcome, so they can start to make plans for this too.
6 Months To Go
Choose Your Bridesmaid Dresses
This one goes out to your fabulous bridal party! If possible, it's always best to gather your nearest and dearest and tackle bridesmaid shopping together. Having your squad try on outfit options will help you make your decision. It'll also ensure that your bridesmaids are comfortable in their attire. Consider modern bridesmaid companies, like Rewritten Bridesmaids, whose range of bridesmaid dresses caters for all sizes and body shapes.
Select & Book Your Caterer
Now's the time to hone in on your wedding breakfast inspiration and decide on a scrumptious menu. There are no limits to options here. Why not pick your favourite restaurant to cater for your wedding? Or, if you're using a wedding planner, they'll have many excellent caterers to recommend. Aren't your guests just the luckiest!?
Book Wedding Entertainment
Whether you're looking for a live band or a DJ, now is the time to get booking. Once again, Rock My Wedding has a wide range of wedding entertainers for you to explore.
Research and Book Any Items You May Need To Hire
If you don't have a wedding planner, think about the extra bits you may need to hire for your wedding day. You may want to upgrade your venue's furniture or hire some beautiful linens. We recommend getting extra bits secured and out of the way in advance.
Organise Wedding Stationery
Whether you're hiring a professional wedding stationer or doing it yourself, now is the perfect time to make a start on your wedding stationery. If you're going down the professional route, it'll take time for your designer to create your paper pieces and send them to print. 
If you're taking a more DIY approach, we recommend using Papier. They have a great range of customisable templates that are easy to use. You can also tailor them to match your wedding theme. Plus, all couples at The Wedding Shop get 15% off Papier wedding stationery.
P.S. Don't forget to include information about your gift list when designing your wedding invitations. Our article on wedding gift list wording is full of helpful tips. You can also use our complimentary notification cards to let your guests know you have a gift list. 
Top Tip: Enjoy An Exclusive 15% Papier Discount on Your Wedding Stationery
4 Months To Go
Buy or Rent Your Tuxedo 
If you or your partner are planning on wearing a tuxedo or suit, now's the time to go shopping! The most important thing to consider is the fit, so ensure you have at least a couple of fittings. You should feel fabulous in your suit and be confident moving around, especially when it's time to throw some shapes on the dance floor.
Send your Formal Invitations
Your guests have already received your save-the-date cards: now it's time to make it official! Send your formal wedding invitations to your lucky guests. If you'd like to, don't forget to include your complimentary notification card in your invitation pack to let your guests know about your gift list. 
Set Your List Live
If your gift list isn't complete by this stage, don't fret! You can still add and delete gifts after you set your list live. Setting your list live means that your guests can see and purchase gifts from your wedding list, which they'll want to do once they receive your wedding invite. At this stage of wedding planning, we recommend you have a range of presents selected from different price brackets. This will ensure that guests have plenty of gift options to choose from. 
Trial & Book Your Hair & Makeup 
It's best to go to your hair & makeup trial with different ideas your stylist can try. Your stylist will also be able to guide you towards styles that will suit you if you wish. 
Buy Your Shoes
You've chosen your wedding attire. Now you need the shoes to match! And don't forget to break them in before your big day! Why not turn up the romance and pop them on while practising your first dance?
Purchase Wedding Dress Undergarments
After your dress fitting, you'll want to find underwear to match your dress. For example, if the dress is backless, you may need to invest in a backless bra. 
Choose Your Wedding Band
Your wedding ring exchange is one of those memories you *just* won't forget. Organising your wedding bands in advance allows time to make design or size adjustments. If you're going traditional and would like to pair your wedding band with your engagement ring, it's best to try these on together to make sure they match.
2 Months To Go
Confirm Bookings With Suppliers
Confirm all your bookings with your suppliers and pay them in full. The last thing you want is to be chased for payments closer to your big day! 
Select Your Music
Sit down with your other half and select your music. If you're looking for wedding music, we've created a Spotify playlist with our favourite romantic songs!
Finalise Order Of Service & Readings
The order of service outlines how your wedding ceremony will run. It's usually designed to match the rest of your wedding stationery and will be printed out for guests to view. Typically an order of service will include an outline of the ceremony, songs and prayers, and the names of your wedding party and the celebrant.
3 Weeks To Go
Create Your Seating Plan
Coming up with the perfect seating plan can sometimes prove just as tricky as choosing your guest list. You'll want to think about the venue's floor plan and try to sit people together who'll complement each other. It's no easy task, we know! So you'll want to dedicate a bit of time to this. However, remember this is your day, and your guests will be happy to be a part of it! So don't stress too much - you've got this!
Write Your Vows
The time has come for you both to write your utterly romantic, possibly sob-worthy, declarations of love to one another. You can either use traditional wedding vows or create your own. If you're stuck on where to start, read Rock My Wedding's guidance on how to write your wedding vows.
Pick Up The Stationery For Your Wedding
If you've used a wedding stationery designer, you'll want to pick up the paper bits you'll need for your big day. This could include your seating chart, place cards, order of service, menus and more.
Before The Day
Let out a big sigh of relief because the hard work is done! You'll need to drop off your decor items at the venue and go through roles with your bridal squad. But apart from that, all that's left to do is stay off your feet, keep well fed and have an early night! We wish you the most spectacular day ahead!
That brings our wedding checklist to a close. Now you can tackle your wedding planning journey with confidence and ease! Don't get too caught up on things if they don't go to plan. The most important thing is to have fun! And if you're still looking for more planning advice, head to the wedding planning section of our blog.
Download 12-Month Checklist