Wedding Planning
Wedding Cake Ideas And Key Considerations When Making It Yourself
Get creative with your wedding cake! Whether you decide to buy it from a professional baker or make your own, let us break the pros and cons down for you.
3 Min Read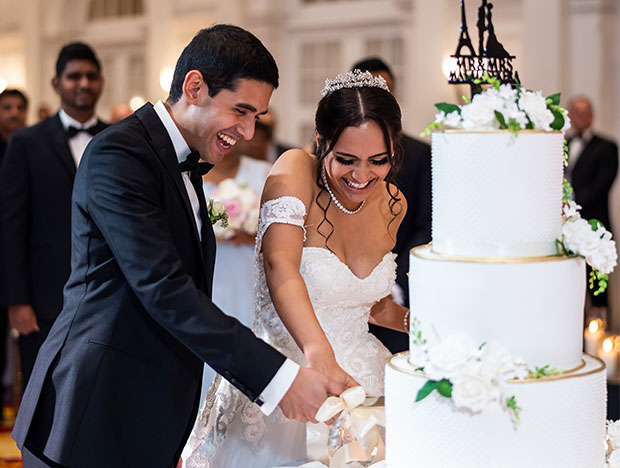 There are some great opportunities to get creative when it comes to your wedding cake. You may be buying your cake from a professional baker, you may be making your own, or perhaps you're thinking of opting for a bake-off style throw-down. Let us break those options down for you and offer lots of wedding cake ideas to spark your creativity!
Professional Wedding Cake Baker
How much should you expect to pay for a professional wedding cake?
There really isn't a base guideline to work from to answer this question, unfortunately. There are so many variables. What level of skill does your cake maker have? How many tiers are you having? What kind of finish do you want? A slathering of buttercream will have a different cost to a finish of edible lace, for example. 
You will also have elements like delivery costs to consider. This may be a flat rate or charged based on distance. One thing you can guarantee that your professional will be trained in, is safely delivering cakes whatever the weather conditions and assembling cakes on site if that's a better/safer option.
Whatever finish, flavour or size you're after, an experienced cake maker will make all of your cake dreams come true. Remember to check their recommendations and book a tasting session with them before giving the go-ahead. If you're looking for a professional to make your wedding cake, check out the Recommended suppliers on Rock My Wedding.
Bake-Off Style Wedding Cake
Having a bake-off-style wedding cake table is such a great way of getting guests to participate in your day. The idea is that whoever wants to take part, bakes a cake in their own signature style. They bring it along to the day, place it on your dedicated dessert table with a description of what it is, and then you, the couple, choose a winner. You could even have a star baker apron made to present to the winner as a prize!
Making Your Own Wedding Cake
Practice makes perfect. So, if you're going to make your own wedding cake, make sure you've done a few trial runs. Also, make sure you give yourself plenty of time to get it done. You don't want to be icing or packaging anything up on the morning of your wedding. 
Talking of packaging, it's worth thinking about how you're going to transport your cake to your venue. Who will you assign that job to? What will the weather be like? If it's warm, how will you keep the cake cool enough so that it doesn't start melting in transit? Do you have a box big enough to be able to keep it fresh and also safe? 
You will also need to consider what happens to your carefully crafted cake once it arrives at your venue. Who will be in charge of putting it in position and will they need to add any adornments to it?
Wedding Cake: Portions, Shapes, Tiers And Flavours
If you let your cake maker know how many guests will be attending your wedding, they will be able to work out the size of the wedding cake you need to ensure everyone is able to get a slice. But if you're making or buying your own, here's a quick rundown of portion sizes that you may want to consider:
Round cakes
8 inch cake = 20 - 24 servings

10 inch cake = 30 - 38 servings

12 inch cake = 45 - 56 servings

14 inch cake = 62 -78 servings
Square cakes
10 inch cake = 44 - 50 servings

12 inch cake = 65 - 72 servings

14 inch cake = 88 - 98 servings
Tiered wedding cake combination ideas
2-tiered round cake with 8 and 10-inch tiers = 40 guests

3-tiered round cake with 6, 8 and 10-inch tiers = 75 guests

3-tiered round cake with 8, 10 and 12-inch tiers = 110 guests
The Cost Of Wedding Cake Icing
We mentioned earlier the fact that different types of wedding cake icing bear different costs. Be mindful that just because you're opting for a naked or semi-naked wedding cake - therefore with less icing - that doesn't mean the cost will necessarily be cheaper than something that is fully covered in buttercream. Icing can cover a multitude of sins. It takes a skilled baker to be able to present something sans icing.
And as for flavours, what will you go for? Some of our favourites are Red Velvet, salted caramel, good old vanilla sponge, pistachio and rose, carrot and elderflower and champagne. Because, well... any excuse for champagne!
If you are cake lovers, we have some gifts in mind that we think you might be inspired by. From cake stands through to cake knives, or how about something different like an afternoon tea experience? Explore themed wedding gifts perfect for you.