Wedding Planning
Wedding Gift Lists: What Exactly Are They?
We may be a *little* biased, but creating your wedding registry is one of the best parts of wedding planning! Let us tell you why by starting with the basics.
4 Min Read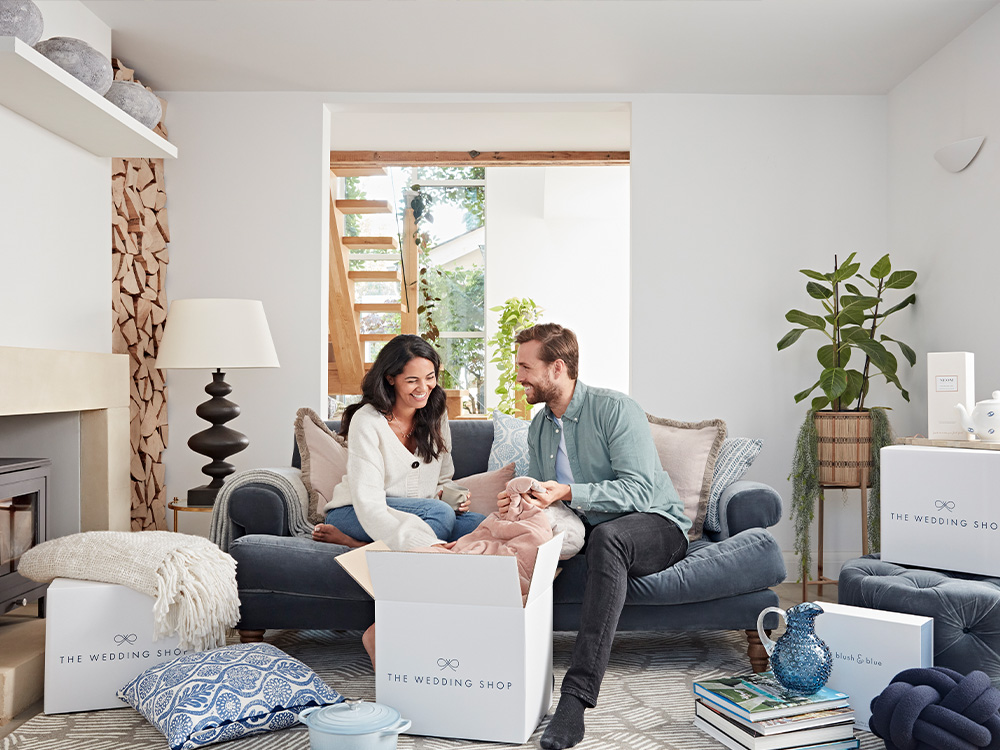 What Is A Wedding Gift List?
A wedding gift list is a service provided for engaged couples. It allows them to curate a selection of desired gifts for their wedding guests to shop. A wedding registry makes wedding gifting and communication seamless. The Wedding Shop gift list is designed with guests in mind too. It removes any stress behind gift-giving, allowing guests to choose a gift the couple will cherish with confidence. It's a win-win for all.
A wedding gift list also allows you to keep all your wedding gift admin in one place. With The Wedding Shop, engaged couples get gift advice from professional advisors. They can also arrange the delivery of your gifts to a date which suits you!
What Is A Modern Wedding Gift List?
Traditionally, couples would create a wedding gift list using a department store. While this allowed engaged couples to create a list of products themselves, the choice was limited. Guests would have to visit the store to buy gifts, making the gift list experience far from the seamless journey it is today!
Fast forward 30 years, and you now have a wedding gift list experience tailored to each couple. With over 450 brands to explore, exceptional service and flexibility, The Wedding Shop is a modern gift list offering an experience like no other.
Couples can build their wedding gift list online or visit one of The Wedding Shop's beautiful showrooms. Our flagship London Townhouse is a must-see for couples who'd like to see gifts in a home setting! Plus, you can meet your expert advisor here (aka your Gift Guru), who will greet you with a glass of bubbles, give you tailored product recommendations and answer any questions you may have. Or receive the same personal service by booking a virtual appointment. 
The Wedding Shop is also free of charge for all couples, offers free delivery, helps you organise thank you cards, and is quick and easy to use. 
Why Wedding Gift Lists Give You Flexibility
The Wedding Shop has over 450 independent and renowned brands to explore. From homewares to experiences, funds to charity donations, couples can build a list that is truly unique to them. The Wedding Shop's Group Gifting option even allows guests to contribute towards part of a gift: so you can add those more luxurious gifts to your gift list with confidence. 
And it doesn't stop there! If a gift you love isn't available at The Wedding Shop, couples can add up to 10 custom gifts from any UK retailer. Aside from endless gift list options, you also have the flexibility to change your mind about a gift, even after a guest has bought it. The Wedding Shop won't order your presents until you give us the final nod.
Why Wedding Gift Lists Are A Good Idea For Couples And Guests
Having a list makes it easy for your guests to get you the gifts that you really want and need. Our survey shows that 99% of guests attending a wedding will give couples a wedding gift. 70% of those wedding guests want to give physical wedding presents that you and your partner will enjoy together throughout your married life.
Gift lists also make it easier on your wedding day. One, because your friends and family don't have to worry about bringing the gift along. Two, you don't have to worry about ensuring everything is safe. Or, make space for a table full of gifts, that could get in the way or be difficult to get home. 
Let the technology do the work and leave personal notes when asking for the gifts you love. It makes it a lovely experience for your guests to understand why you are choosing certain gifts. You can also create a personalised URL, upload a profile photo and choose a background image to bring your list to life. 
An online wedding gift list service allows you to build your dream list that is completely unique to you and your other half. Whether you choose to list a Sonos' sound system that will transform your Friday nights and Sunday mornings or gorgeous finishing touches to really make your house a home, a wedding gift list is a one-stop-shop for your guests to choose something that you will both love. 
Now we know that is a lot of information! If you are newly engaged it can be a whirlwind trying to remember everything. So, we have a 5 step guide to show you exactly how wedding gift lists work.
Start Your Wedding Gift List