Wedding Planning
Wedding Planning Checklist: How To Research Your Wedding Online
Research is an essential part of wedding planning, helping you both figure out your vision for your special day. Follow these ten online steps to get started.
7 min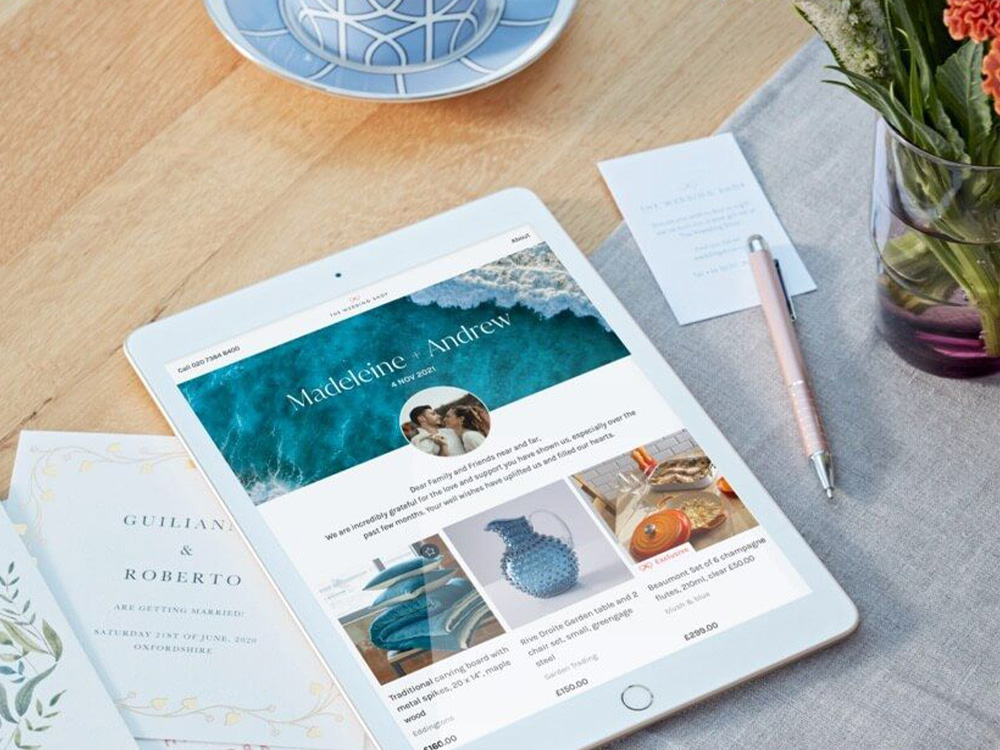 Pull up the Pinterest board - it's time to start your wedding research! We love a planning session. So much so, that we've pulled together our top tips to create the ultimate online wedding planning checklist. So pop your planning shoes on and grab a cuppa. It's time to start ticking off that checklist.
Top Tip: It's a good idea to get your wedding budget sorted first. Doing this will help you to set realistic expectations before you jump in and start exploring the big wide world of weddings. Once you have the exact numbers, use our guide to break your wedding budget down further.
Considering how many guests you'd like to have at your wedding is also a good idea. Are you planning a big wedding or something a little more intimate? How much money can you spend on each guest? Deciding on a head count will help you to shortlist suppliers and vendors when researching.
10 Steps to Researching Your Wedding Online
Before you jump in the car to start visiting wedding venues or gather your entourage to go bridal shopping, you'll want to do some research. Online research is that first essential step of your wedding planning journey. It helps you to start outlining your vision for how you'd like the day to look and feel.
It's also worth noting that wedding vendors tend to get booked up pretty quickly. So researching and shortlisting your favourite suppliers ahead of time will help speed up the booking process. 
In this article, we'll guide you through each step of the wedding planning process and the research you'll need to do. We'll suggest the best places to find inspiration from real couples and what to consider. So without further ado, let's get started! Here are our ten steps to researching your wedding online:
Step 1: Wedding Venues
Choosing your wedding venue is one of the most exciting parts of wedding planning. It's also one of the most important - your venue sets the tone for the rest of your day. From churches and barns to marquees and stately homes, there are so many options to explore. Set aside some time to research wedding venues and choose your top ten.
Step 2: Wedding Attire
Finding your dream wedding attire can take time. Whether you're opting to go traditional with a tux, and a big white wedding dress, or throwing the rule book out the window and doing things your way, it can be all too easy to let the pressure get to you. But if you've taken your time and done your research before you hit the shops, you'll have the best possible chance of finding the perfect outfit.
Step 3: Wedding Stationery
Whether hiring a professional or taking a more DIY approach, you'll want to have some wedding stationery designs in mind. The styling of your big day should influence your stationery design too. We love Papier's range of customisable wedding stationery templates. Plus, all couples at The Wedding Shop get 15% off!
Related: How To Choose Your Wedding Stationery With Papier And Exclusive 15% Discount
Step 4: Wedding Flowers
Whether you're after soft muted florals or something a little bolder, your wedding flowers will help pull your styling together. So, now's the time to refer to that Pinterest board and pick floral designs to compliment your wedding theme. Think about the flowers that will be in season over your wedding. You can even send your florist your mood board and ask for recommendations.
Step 5: Wedding Photography
Your wedding photographs are sure to be one of your most cherished keepsakes from the day. With that in mind, finding a wedding photographer who shares your vision and fits your style can take some time. You'll want to find someone you trust and feel comfortable around. A good tip is to shortlist your favourite photographers, pick one, and book an engagement photoshoot. That way, you'll get a sense of how you work together before the big day!
Step 6: Wedding Cake
Modern wedding cakes come in all shapes, sizes and flavours. From traditional three-tiered cakes in white to bold showstoppers, the choice is all yours. So, take some time to think about how your wedding cake can add to the styling of your big day.
Related: Wedding Cake Ideas And Key Considerations When Making It Yourself
Step 7: Entertainment
Get your dancing shoes on - it's time to find your wedding entertainment! That's not to say that all wedding entertainers exist on the dance floor.... As well as the traditional bands and DJs, you can browse live painters, circus performers, bouncy castles and more. If you have an idea in mind, chances are you can find it!
Step 8: Catering
Wedding catering options are endless. So grab a snack, because exploring all the delicious wedding food options is guaranteed to make you hungry! From food trucks to alfresco dining buffets or cheese and wine boards, it's time to plan the ultimate wedding menu. 
Related: Wedding Catering: Your Most Asked Questions Answered
Step 9: Transport
So, your venue is booked, but how will you get there? Are you providing transport for your wedding party too? How about your guests? (hello, party bus!) Planning your wedding transport is a great way to inject a little extra fun into your day. It'll be one of the most exciting journeys of your life, so why not do it in style? Whether that's in a vintage car, stretch limo, on a boat or even a horse and carriage, the list goes on. Bon voyage!
Step 10: Hair & Beauty
Once again, it's time to open up that Pinterest board and find hair and makeup styles you love. You'll want to wait until you've chosen your bridal attire before you settle on anything, so keep a few options open. 
When it comes to finding a stylist, we have a few recommendations. If you have a current hairdresser you love, ask them if they do bridal packages. They'll already know what you like and which styles suit you. Plus, you'll trust them to do a great job. 
Get inspiration from real weddings online too. Or, perhaps you've attended a wedding where you loved their bridal hair. Ask that person for a referral and how their experience was. 
Or, find a qualified bridal stylist. Do a bit of research and read reviews of their work. Check out their social media too -  most hairdressers will display their work on socials so you can see their style in action.
That ends our online wedding planning checklist. If you're ready to take your wedding inspiration and make it a reality, read our 12-month wedding planning checklist. 
And just before you log off, remember you can also start building your gift list online! Setting up your wedding registry in advance ensures you have time to browse all your gift options. And with over 450 brands to explore experiences, funds and charities, there's plenty to explore! You can even book a virtual appointment with one of our expert advisors. They'll take you through the gift list process and even give you tailored gift recommendations.