Wedding Planning
The Joy Of Wedding Planning: Creating Your Wedding Gift List
Six couples share why having a wedding gift list is a joyful experience. Start the fun part of wedding planning that will bring you joy long after the confetti has settled.
5 Min Read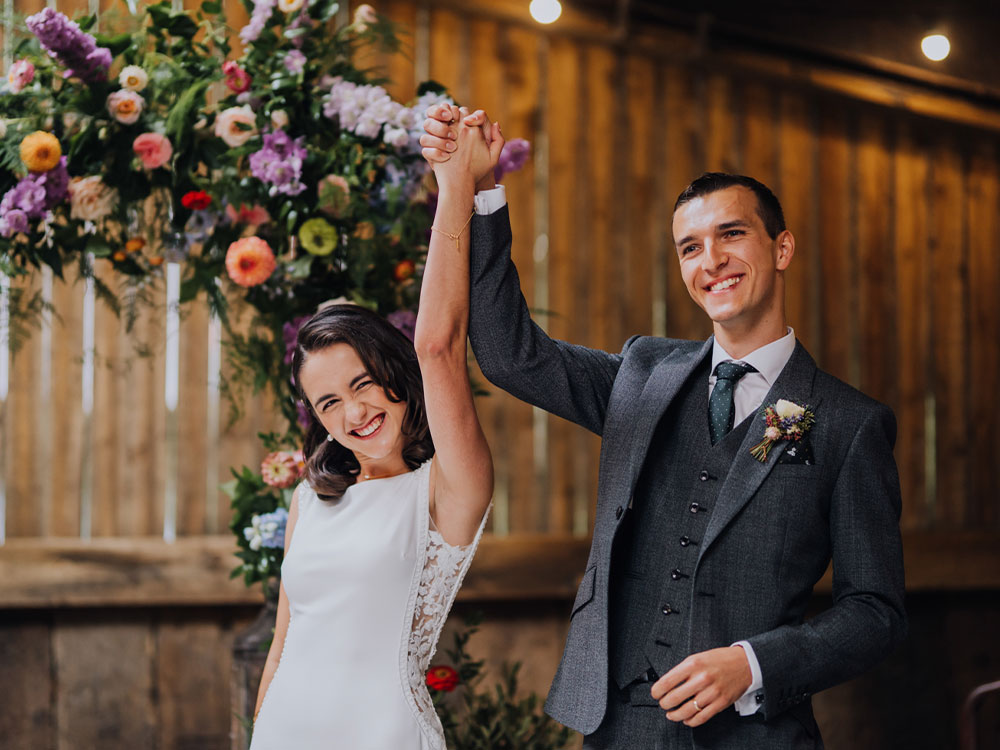 Aoidin & Christopher: A Wedding List Of Dream Pieces
Building a wedding gift list was one of the most fun elements of our wedding planning. Who doesn't want to make a wedding list of dream pieces for their new home?
The Wedding Shop offers a one-stop shop for everything or anything you could dream of for your wedding list.
We bought our first home 6 months after our wedding and it meant the world to us that The Wedding Shop could store our gifts. Once we moved in, we had all our gifts delivered and it was something to look forward to all over again.
We loved the Wedding Shop Townhouse, having a chance to walk around getting inspiration for our wedding list was so exciting and the team were incredibly helpful.
Our KitchenAid was a highlight, a bucket list item of my husband's for forever! I'm not fully sure it wasn't an incentive for getting married!
Photographer: Benjamin Wheeler
Farrah & Jonathan: Keep The Post-Wedding Blues Away
Having a wedding gift list helped us to keep the excitement even after the big day. As well as gifts, we included honeymoon experiences. So having a list helped us plan all the fun things we wanted to do.
We also included charity donations to our wedding list. It really is a great feeling knowing you and your guests have helped make a difference to a cause you care about. We chose Shelter, and receiving an email of thanks from them was an amazing feeling.
We had a wedding list to make things simpler for any friends or family who wanted to contribute. Rather than not knowing what we wanted or risking doubling up on an item, it just smooths out the whole process and is a no-brainer.
We loved the flexibility of The Wedding Shop. It was so easy to set up something and really personalise each gift. Our guests were also pleased we had a list with all budget options and we got some comments about the fun photos we included. It was very simple to set up and share!
Photographer: Clara Cooper Photography
Mahrya And Shahnaan: Guests' Gifts To Cherish Forever
Having a wedding list was a key part of wedding planning because our wedding guests wanted to give us a gift that we will use and cherish for a long time. Something that will remind us of them. So, it was great to be able to help them choose a gift that we love. We absolutely loved all of our wedding gifts and use a lot of them every day, long after the wedding has passed. 
Our wedding list allowed us to pick exactly what we wanted for our home, and it gave us the chance to really think about what to add and what not to add. We could add and remove items easily, so it was really convenient. 
We loved the whole experience of using The Wedding Shop and building our wedding list. We would definitely recommend it to anyone planning their wedding.
Photographer: Rebecca Goddard Photography
Keshia And Timor: The Most Fun Part Of Wedding Planning
One of the most fun parts of wedding planning had to be picking out our gifts. Everyone was asking us what we wanted so we decided to create a wedding list, and we completely got lost in the process. It was a lot of "imagine using this for Christmas lunch" or "you would totally cook more if you used this." 
Tim and I had a destination wedding and our families and friends live in different parts of the world as well, so it was really important for us to have a gifting service that was easy for them to access and use. We looked at different wedding registry websites and felt that The Wedding Shop was by far the easiest to use and we LOVED the range of products.
Our guests absolutely loved the fact they could send us gifts and didn't have to worry about delivery. A lot of our guests also loved that they could give us a physical gift so that years down the line, we can look back and say "Leah gave us this for our wedding." They also appreciated that they didn't have to fuss around and waste time wondering whether we would like the gifts as my husband and I picked the gifts. 
Claudia & Daniel: Wedding Gifts That Bring Joy Every Day
Having a wedding list is not only a fun part of wedding planning, but our gifts also bring us joy every day. We mainly listed dining and tableware gifts. So, we now make takeaways and cooking at home a special occasion when plating up our meals. We also received a 3-month flower subscription which we loved – it was a lovely monthly reminder of our special day during the first 3 months of our marriage.
When building our wedding list, we were looking forward to having mementos from our friends around our flat that would remind us of our wedding day. As we thought more about what to add to our list, we particularly enjoyed the flexibility of the service – we were able to add items from the large range of brands to find pieces that worked for us.
Everyone we spoke to at the Wedding Shop has been so courteous and helpful; even during this difficult period of "lockdown". Our delivery driver, Ryan, really made an effort to make dropping off the gifts special; we couldn't wait to open everything.
Photographer: Karolina Zieba
Laura & Anthony: A Personal Wedding Gift List Service
We loved the whole wedding list experience - it was so easy to set up, and included all of our favourite brands such as The White Company, Culinary Concepts and Nkuku. 
The personal service at The Wedding Shop is so great - you get a dedicated Gift Guru and they are really helpful from the get-go, which really made building our wedding list a fun part of wedding planning. 
We loved the style of the website. Very minimal but sleek at the same time. We weren't sure whether to have a gift list at first, but this felt really natural. You can suggest your own things too, instead of selecting products already on the website, which I thought was really handy.
The gift packaging is gorgeous, too. 
Photographer: Alexa Penberthy
Unrivalled Choice Of Wedding Gifts, Flexibility And Exceptional Service
The Wedding Shop is a multi-award-winning wedding gift list service that has been delighting couples for three decades. It's often a whirlwind of wedmin as well as emotions, but we are here to help and thrilled to be a part of your exciting journey.