Wedding Planning
Wedding Gift List Wording: Top Tips & Examples
Make wedding gift list wording a breeze with these top tips. Including examples of how to politely ask guests for wedding presents.
5 Min Read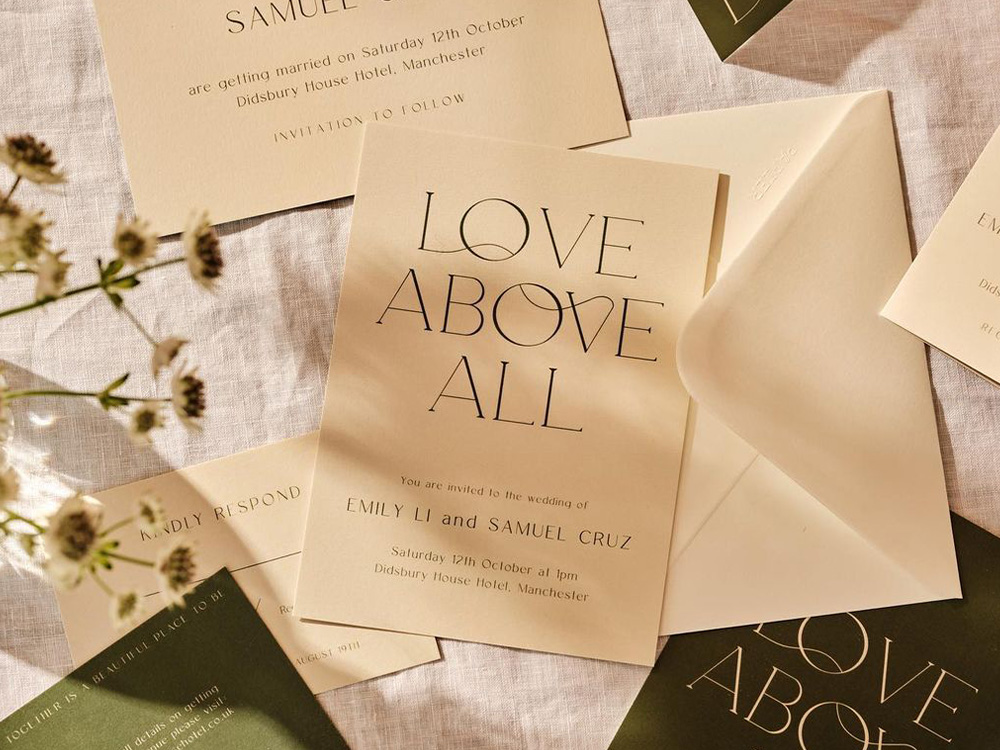 You've started building your dream wedding gift list, bursting with presents you both adore. But how do you graciously let your guests know? It's all down to your wedding gift list wording. With this in mind, we've answered the most asked questions surrounding the best wording to use, including examples of how to ask your guests for gifts.
How To Politely Ask For A Wedding Gift?
We know that sometimes it's a little difficult to ask for gifts. But rest assured, your guests will want to treat you to something special. The key to politely asking for wedding gifts is to let your guests know their presence is most important. And if they do wish to buy you a gift, let them know you have a wedding registry!  Keep it short, sweet and non-judgemental.
"We've built a dream wedding gift list that will set us up for our new home together. Please don't feel obliged, but if you'd like to help us on our journey, please find our gift list details below."
When Should I Ask My Guests for a Wedding Gift?
The best way to let your guests know about your gift list is on your formal wedding invitations. It's the most natural way to direct people to your list. Additionally, some guests will want to buy you a gift as soon as they read your wedding invitation! That's why we always recommend including your gift list information on your invites. It'll stop guests from going rogue and buying you something you don't necessarily need or love.
"Please don't feel obliged to purchase a gift, we're just happy we can share our special day with our nearest and dearest. But if you would like to, we've made our dream gift list with The Wedding Shop."
What Information Do Guests Need For Our Wedding Gift List?
For those who have paper wedding invitations, include your gift list reference on your invites and direct couples to The Wedding Shop's website. Your gift list reference is how guests access your wedding registry. The Wedding Shop also has complimentary notification cards. Include these in your paper invitations to discreetly advise your guests about your wedding list.
"For us, it's 'presence over presents. Sharing our day with you is what matters most, but for those who would like to buy us a gift, you can find our registry on The Wedding Shop"
For those who have a wedding website, you will have a personal URL, which you can use to link directly to your Wedding Shop gift list.
"Your presence at our wedding means more to us than any present. But should you want to buy us a gift, we've created our dream wedding gift list at The Wedding Shop. Find our list at: [personalised URL]"
How To Ask for Money Instead of Gifts on Your Wedding Invitations?
If you'd like to use your gift list to ask for money instead of physical gifts, that's completely fine! You can do this by setting up funds. Our advice would be to personalise your funds so that your guests know what they're contributing towards! For example, why not create a fund for a scuba diving experience during your honeymoon? 
"We're hoping to create once-in-a-lifetime memories on our honeymoon, and it would mean the world if you could help us make this a reality. There is no pressure to contribute, but if you'd like to, you can find our honeymoon fund and activities at ..."
It's also a good idea to add a selection of physical gifts to your list. Some guests will prefer to give you something tangible. With thousands of gifts to choose from, there is something to complement every fund. Why not jet set in style with some new luggage? Here are some gift ideas to get you started: