Wedding Planning
Why Guests Love It When Couples Have A Wedding Gift List
Why do guests love wedding gift lists? We spoke to five real wedding guests to find out!
5 Min Read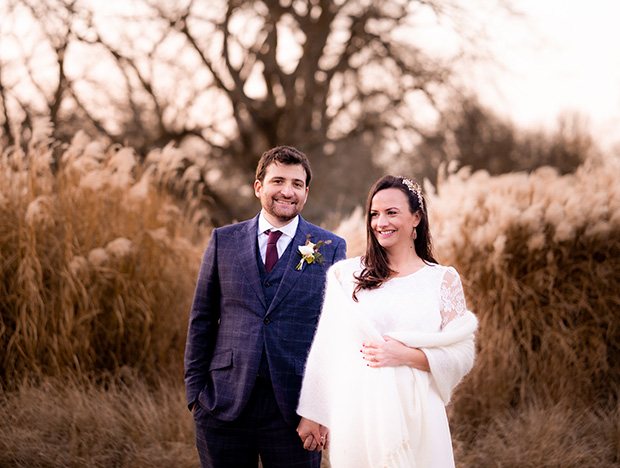 Newly-wed couple Sophie and Mike had a wedding gift list for their winter wedding. As an award-winning gift list service, we already know that friends and family love to give, but you don't have to take it from us! We asked 5 of their wedding guests why they were glad this couple used The Wedding Shop.
Group Gifting Something Special
"Imogen and I have been friends with Sophie since we were babies. Our mums met at NCT. So, we thought it would be nice to gift the happy couple together. We found The Wedding Shop's Group Gift function was perfect for this, so we were pleased they had set up a wedding gift registry.
We saw that Sophie and Mike had listed a Green Pan cookware range. We gifted this as we thought having great cookware to make the recipes we had grown up with would be a lovely wedding present. My mum was a food stylist, and Imogen's mum is known for being a great baker, so we knew this choice would have meaning too. Thank you, The Wedding Shop, for making our lives easier."

Imogen & Beth, Friends of Bride
Wedding Gifts To Indulge In
"As Sophie's brother, I wanted to spoil them with something special. I picked a lovely dinnerware set inspired by antique Vietnamese pottery. Knowing my sister's love for sharing family meals and their appreciation for artistic aesthetics guided my decision. It was the perfect gift to celebrate their big day! It was great knowing that I could buy them something they wouldn't be able to treat themselves to otherwise."
Jonathan, Bride's Brother
Getting The Perfect Gift Right On The First (And Only) Try
"I've been friends with Soph since we met at University. I was so thrilled that they had a wedding registry. It took away the umming and ahhing over what to get them. I still got to choose, but having everything listed meant I wouldn't buy them something they already had. It also saved me a trip to the department store.
It was good to see that The Wedding Shop is an award-winning gift list, so I felt safe using their service. I also loved that charity donations were a gift option. In the end, I contributed towards a sofa, using The Wedding Shop's group gifting option. Soph and I spent many days relaxing on our uni sofa (and still do now!), so it had meaning to us both."
Kate, Friend of Bride
Wedding Gifts To Upgrade
"As Sophie's Godmother, I wanted to pick a gift to help them upgrade their home! I have a traditional taste, so I opted for a cutlery set. I was so excited to see that on their gift list because it would add value to their everyday life and become a family heirloom. It was great that they selected a range of presents for guests to choose from, especially those that would see them through married life together. Even for me, using The Wedding Shop was quick and simple, it was fantastic to know that they arrange delivery."
Liz, Bride's Grandmother
Meaningful Gifts
"As Mike and Sophie's cousins, we wanted to give them something they wanted, that was both meaningful and something they loved. Having the list online with a fab selection of gifts to choose from was perfect. It meant we could buy something together without having to arrange a big meet-up. The very fact Sophie and Mike had chosen the gift really made it easy.
A love of home textiles runs in our family, so it was nice to see that The Wedding Shop had lots of lovely bed linen which Soph and Mike had added to their list. We chose to buy a White Company bedding set. Our grandma used to sew everything so that personal connection also made the gift meaningful. And as they had chosen this together, we knew they would love it."
Charlie & James, Cousins of Groom
How Do Wedding Gift Lists Work?
A wedding gift list or wedding registry is a service designed for engaged couples. It allows you to curate a selection of desired gifts for your wedding guests to shop. With The Wedding Shop, you can mix and match products, experiences and funds: all on one list. You're assigned an expert advisor (or Gift Guru) who will guide you through your gift list journey. You can also visit our showrooms, book a virtual appointment and browse our website for unique gift inspiration. Plus, your gifts will be stored safely and delivered straight to your door on a date which suits you! 
A wedding registry is designed with guests in mind too. It removes any stress behind gift-giving, allowing guests to choose a gift the couple will cherish with confidence.
Is It Common For People To Have A Wedding Gift List?
Yes! Traditionally, couples would create a gift list using a department store. Guests would have to visit the store to buy gifts, making the gift list experience far from the seamless journey it is today. 
Fast forward thirty years - and the modern gift list experience is very different. With The Wedding Shop, couples and guests have a seamless gift list journey that's meaningful and so much fun.
To see more guest and couple feedback, check our Trustpilot reviews. Ready to create your wedding gift list? For gift ideas, you can explore our starter collections. We recommend adding a wide range of gifts at different price points to give your whole wedding party plenty of choice. You can include your gift list in your wedding invitations, so your gift list is a great task to work on when you are finalising your guest list. 
We know that it can take a lot of energy and time to plan a wedding. So, please do reach out to your personal Gift Guru if you need any help or advice. You will be assigned your Gift Guru when you register. Think of them as your very own wedding planner, but for your gift list.
Create A Gift List