Wedding Planning
The Five Love Languages: Gifts That Speak to the Heart
What do the five love languages mean? Discover yours now and add gifts which speak straight to the heart.
8 Min Read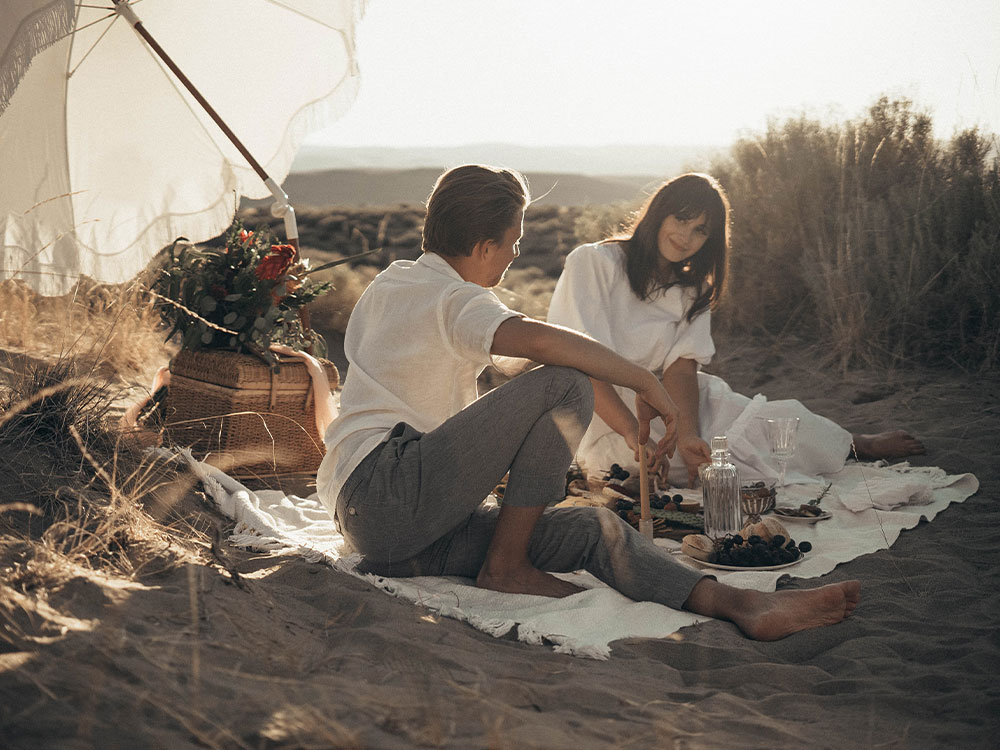 As your wedding day approaches, we're sure you'll already have your partner's love language down to a T! Whether it's words of affirmation, physical touch, quality time, acts of service, or receiving gifts, understanding which one speaks the loudest to your partner is bound to make them spill over with - well - love!
So why not take it further by adding wedding gifts to your wedding gift list catered to your love languages? And the best part? Your guests will be thrilled to give you a truly meaningful gift.
An Introduction To Chapman's Love Languages
Unfamiliar with Chapman's five love languages? Here's the lowdown: Gary Chapman proposed that there are five primary ways that people receive and express love. Knowing which language your partner resonates with most will help you express love in a way that "speaks to their heart".  Additionally, understanding your own love language allows you to express your needs to your partner. Chapman suggests that this mutual understanding of one another's love languages will strengthen your relationship, allowing you to feel validated and supported.
Gifts For Your Love Language
Below we've outlined what each love language means. And (cue the excitement!) created a list of gifts tailored to each love language. Choose from a breakfast-in-bed tray (hello acts of service) to a Mr & Mrs Smith voucher, perfect for that person who values quality time with their partner. Here are our gift picks which speak straight to the heart:
1. Receiving Gifts
This person will value thoughtful and romantic gifts. It's less about the price tag and more about what a present symbolises: the thought behind its careful selection and knowing what that person likes and values. They'll love having a tangible and visual expression of a partner's affection. And if your love language is gift giving, the pleasure of giving a thoughtful present will return the joy ten fold.
Gift suggestions: presents which relate to a special memory you share. Perhaps a turntable to relive your first dance memories? Or a bouquet subscription of your partner's favourite flowers.
2. Acts Of Service
As the saying goes, "actions speak louder than words"! Those who resonate with the love language 'acts of service' will be most receptive to actions. They'll treasure a partner going out of their way to make their day easier. Picking up one of their chores, cooking a meal or making them a cuppa during a busy day will make this person feel loved.
Gift suggestions: Think of gifts that will make acts of service extra special. A breakfast-in-bed tray is perfect for a surprise breakfast. Or, a Cookaway voucher will make a romantic dinner extra memorable.
3. Quality Time
Sharing meaningful experiences is what this love language is all about! People whose love language is quality time will cherish uninterrupted and focused time with their partner. Devoting time to them and ensuring your attention is on enjoying the time spent together is the best show of love and the perfect gift for this type of partner.
Gift suggestions: consider gifts which are best enjoyed together: picnic hampers, room vouchers and cocktail subscriptions.
4. Words Of Affirmation
This person will value verbal and written acknowledgements of affection. Purposeful and honest communication such as regularly saying "I love you" will make them feel secure, desired and loved. 
Gift suggestions: a journal with a hand-written declaration of love inside. Small tokens that remind them of your love. Or, a personalised bowl inscribed with 'love' is a perfect way to remind your other half of your wedding day and the vows you shared. Here are a few 'affirmation' gift ideas:
5. Physical Touch
This love language places importance on physical expression. Small physical gestures, such as handholding or snuggling, will be extra special to this person. Communicate affection to your partner through intentional skin-to-skin contact, rather than words. 
Gift suggestions: think about setting the mood with a calming candle, cosying up under a cashmere throw or even letting your guests treat you to a couples massage (group gift option available)!
P.S. It's important to remember that while most people have a primary love language, we should still express affection using all five love languages. Because let's be honest, a surprise breakfast in bed, love note, oil massage, or secluded picnic are things we all need in our lives!
If you've enjoyed learning about love languages, we think you'll love our collection of Gifts Guests Love To Give. Or why not take a look at these 35 Best Wedding Gifts?