Buying Guides
Best Bath Towels: How To Choose Lavishly Soft & Absorbent Towels
Choose the best bath towels for your lifestyle and preference. From fast-drying and waffled to luxuriously soft, our buying guide has you covered.
10 Min Read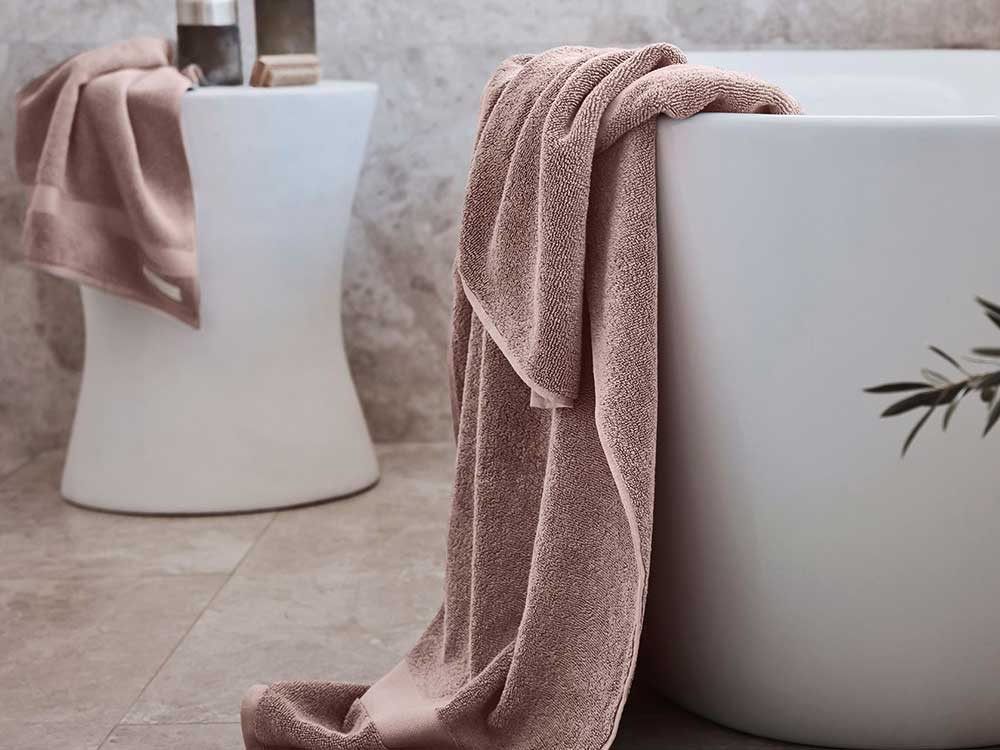 This guide includes everything you need to know to choose the best bath towels for your lifestyle, not to mention those that feel amazing against your skin.
Whether you're a bath or shower lover, there is one thing we can all agree on: drying off with luxuriously soft towels is one of life's best pleasures. Your wedding gift list is the perfect opportunity to make sure you start married life enjoying this pleasure, time and time again. So, if you're on the search for lavishly soft bath towels, you're in the right place! But before we get started, here's what you need to know to make the most informed choice:
How Do You Choose a Good-Quality Towel?
When choosing a hotel-quality towel, there are three things to keep in mind: gsm, material and size.
1. Consider The GSM
A towel's weight is measured using GSM (grams per square metre). The higher a towel's GSM, the thicker and more absorbent the towel will be. For plush hotel-quality towels, look for a GSM of 600 or more. Top tip: Consider how often you'll use your towel when deciding on the GSM. Towels with a lower GSM will dry quicker whilst higher counts will feel more luxurious.
2. Bath Towel Size
Bath towel sizes in the UK vary depending on their purpose. A bath towel or bath sheet is what you'll need to dry yourself in utmost comfort. The standard dimension for a bath towel is 70cm x 135cm and 100cm x 150cm for a bath sheet. However, bare in mind that these sizes will vary from brand to brand.
3. Choose An Excellent Quality Material
Cotton is the best towel material. However, there are many different types of cotton. The kind of cotton your towel is produced from will determine its quality. Egyptian cotton, Organic cotton, Supima cotton and Turkish cotton are all renowned for their softness, absorbency and durability.
Bath Sheets Vs Bath Towels
Bath sheets are essentially luxurious towels. But larger. We love them because it means you can wrap yourself dry with even more lavishly soft fabric. You would typically find a bath sheet in a five-star hotel. So, why not bring the five-star hotel experience to your home?
Which Towel Brand Is Best? 
Here at The Wedding Shop, we've worked hard to source only the best quality towels from brands you trust. Whether you're after a towel that's fast drying, waffled, irresistibly luxurious - or all of the above - we've got you covered. So sit back (preferably in a steamy, fragrant bubble bath) and take your pick! Here are the ten best bath towels to add to your wedding gift list:
Christy
Best Luxury Bath Towel
Supreme Hygro Bath Towels
Your wedding gift list is the perfect opportunity to go all out and invest in luxurious bath towels. And when it comes to luxury, Supima cotton is as good as it gets. Made using 100% Supima cotton grown exclusively in America, these towels invite you to experience pure comfort in your home. The hollow-fibre cotton is ultra-absorbent and feels ultra-soft against the skin.

100% Supima cotton, 650 GSM, 75 x 137cm
The White Company
Best Quick Dry Bath Towel
Hydrocotton Bath Towel
Add a touch of elegance to your daily routine with the best-selling Hydrocotton Bath Towels from The White Company. Crafted using an innovative low-twist technique, these 100% cotton towels are ultra soft, absorbent and fast-drying. They are the perfect choice for a busy household. 
100% cotton, 500 GSM, 70 x 125cm
Designed by AMARA
Best Affordable Bath Towel
Egyptian Cotton Bath Towel
Wrap up dry without breaking the budget. Designed by AMARA's Egyptian Cotton Bath Towels are affordable without compromising on quality. Featuring simple triple border detailing, these 650gsm bath towels will make a stylish addition to any bathroom.
100% Egyptian Cotton, 650 GSM, 70 x 125cm
The Organic Company
Best Organic Bath Towel
Fine Bath Towel
The Organic Company is home to organic textiles made for everyday living. If you're dreaming of an effortlessly lightweight and soft towel made from organic cotton: the search is over! Their Fine Bath Towel is not only made from 100% GOTS-certified organic cotton but also comes in a range of beautiful soft tones.
100% GOTS certified organic cotton, 100 x 150cm
Soho Home
Best Beach Towel
House Pool Towel
Made from 100% organic cotton, Soho Home's pool towel is incredibly soft, comfortable and environmentally friendly. Its generous size and absorbent quality make it a practical choice for drying off after a refreshing swim. The classic design, featuring Soho Home's signature logo, adds a touch of elegance to your outdoor decor.

100% Turkish Cotton, 99 x 180cm
blush & blue
Best Bath Towel Set
Barnes Set Of 6 Towels
There's nothing that says spa-retreat more than a set of matching towels. Give your bathroom a deluxe upgrade with The Barnes Set of Towels from blush & blue. The collection, made from 100% Pima cotton, includes two hand towels, bath towels and bath sheets. Boasting a 650GSM, they are wonderfully soft and ultra-absorbent.

100% Pima Cotton, 650 GSM
The White Company
Best Egyptian Cotton Bath Towel
Egyptian Cotton Bath Towel
If you're after sumptuously soft towels made from Egyptian Cotton, this collection from The White Company is a must-have. Their best-selling Egyptian Cotton range is crafted from 700gsm, meaning you can indulge in the simple pleasure of plush-to-touch towels for years to come. 

100% Cotton, 700 GSM, 70 x 125cm
Elvang
Best Waffled Bath Towel
Waffle Bath Towel
Drying off with beautifully textured towels is a luxury you can now afford. These waffled towels from Elvang gain their texture from their unique weave. Not only stylish, but their textured weave allows for extra absorbency and faster drying. After each wash, the weave will tighten slightly, leaving the structure of the towel even prettier. 

100% GOTS certified organic cotton, 380 GSM, 70 x 140cm 
Sheridan
Best Turkish Cotton Bath Towel
Retreat Natural Bath Towel
What makes Turkish cotton so luxurious is its ultra-soft, fluffy texture. And if luxury is what you're after, you're on to a winner with the Retreat bath towel collection from Sheridan. Expertly crafted from finely spun Turkish cotton and boasting 700 GSM, these beautifully soft towels will transform your bathroom into a sanctuary.

100% Turkish Cotton, 700 GSM, 69 x 137cm
How To Care For Your Towels 
1. Wash Thoroughly
The first thing to do before using your new luxurious towel is to wash it, ensuring it's thoroughly clean. Don't overload your washing machine - there should be plenty of space for your towels to have a proper good soak. 
2. Don't Condition
To maintain the quality of your towels, we recommend ditching the fabric conditioner. Over time fabric conditioner will build up, reducing the softness and absorbency of your towels. 
3. Dry
Finally, when drying your towels, hanging them on the line to air dry is the best practice. A regular cycle on your tumble dryer will do the job too. Just remember, remove your towels immediately after the cycle is complete to prevent stiffness and wrinkles.
So, what lavishly soft towel will it be? Whatever your choice, rest assured that these picks will have you drying off feeling like royalty. 
Looking for more bathroom inspiration? Explore our Bathroom Accessory Collection. It's brimming with gifts to turn your bathroom into an oasis of calm, from serene scents to stylish bathroom accessories.
Towels