Wedding Inspiration
Backyard Wedding: Yaël And Michael's Narnia-like Celebrations
Step into a Narnia-like wedding followed by a backyard wedding reception. Yaël and Micheal's wedding is a true fairytale celebration.
5 Min Read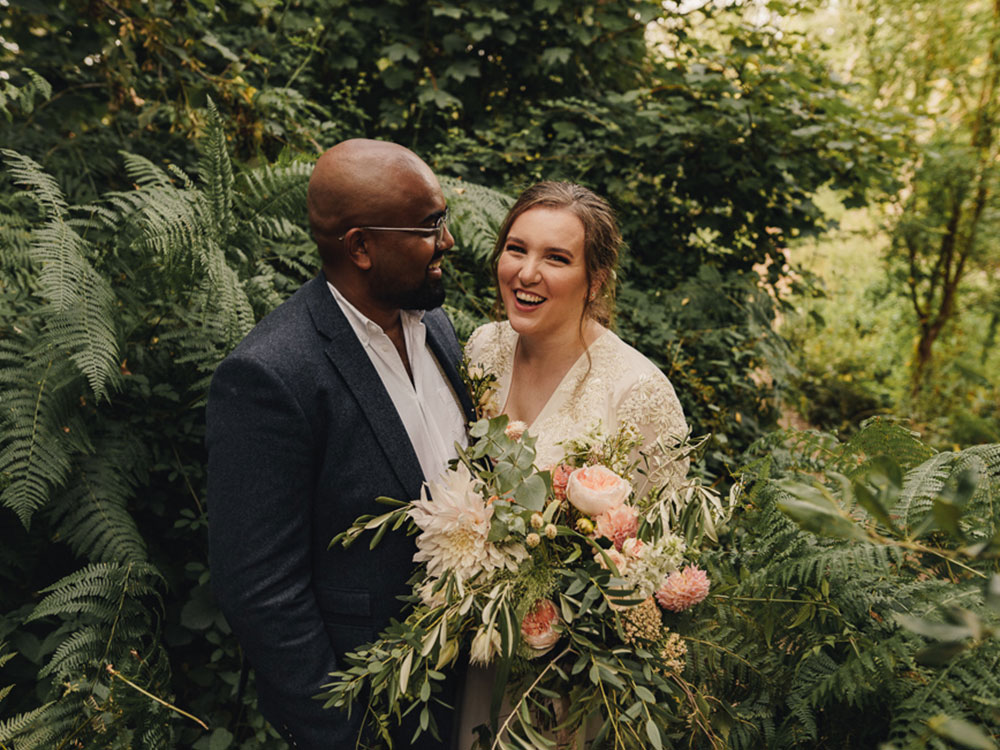 You'd be forgiven for feeling like you have stepped into Narnia after seeing Yaël and Michael's wedding at The Kilns (also known as C. S. Lewis House) followed by a backyard wedding reception at their parents' house. They celebrated their marriage in true fairytale style. Read on to find out what made their day unique, along with their wedding planning advice and favourite wedding gifts.
What Made Your Backyard Wedding Day Unique?
Well, we had it in the fairytale garden of CS Lewis' former house. And then walked across the street to have the backyard wedding reception in my parents' garden. We had our 30 people there and sat in the sun enjoying Aperol spritz or good old fashioned wine and good food together. 
Some of our other friends and family that lived abroad or couldn't be there joined us on Zoom - it was so nice to have them 'there'. To end the night off we had Ben's cookies and Krispy Kreme doughnuts for everyone and sparklers of course. 
What truly made our day so unique was that each element of the wedding was created by someone we truly care for and love.  My dearest friend is a florist so she did the flowers. And her baby girl was our flower girl, one of my bridesmaids made our cake, and my dad and brother built the arch under which we got married. My mom helped decorate and so on. Everyone that was there made the day happen and it was so special to feel so much love on our day.
What Inspired The Style Of Your Big Day?
We wanted nature to be included in our day because I adore it and am a florist, so of course flowers played a big part. When we found out that we were going to be having a micro-wedding, we paired our plan back a lot but still kept it soft and magical with late summery tones.
"Love to us means putting ourselves second and always caring for the other person first. It's sacrificial, knows no limits and causes us to come up with the most thoughtful acts."
Do You Have Any Key Wedding Planning Advice?
Your wedding is about you and the person you are marrying. Always remember that. So many people will have their opinions and advice and while most of this comes from a nice place, you have to go with what you feel comfortable with. What you find fun and what reflects you as a couple the best. Be unique and don't be afraid to break some of the 'traditions'.
What Was Your Favourite Wedding Gift And Why?
Definitely the Dyson Hoover... so sad but it's super handy and I love cleaning. We also love the bowls we got - they are perfect for yummy homemade ramen.
How Did Having A Gift List Help You To Create Or Upgrade Your Newlywed Home?
Our gift list really helped us furnish our first home together with so many nice items and it was all in one place so it wasn't stressful at all.
Were Your Guests Pleased You Had A Gift List And Why?
Yes, as soon as we sent out our 'Save the Dates' so many people responded how excited they were and how they'd love to gift us something. And to let them know what we would like. That was what made us decide to have a gift list in the first place. We thought that a gift list would be super handy for them as well as for us.
Why Is Building A Gift List A Key Part Of Wedding Planning?
It's so important to think of the future and what comes after your wedding while you are planning it. Because your wedding will be over in the blink of an eye. And then the real journey together starts. If you have a lovely home furnished by the people you adore, it makes it so much sweeter.
Why Did You Choose The Wedding Shop?
My hubby actually did. He came across the website and really liked it - he took ownership of this part of our wedding planning which was super helpful.
Photography: Chamberlins
Start Your Wedding Gift Registry