Home Styling & Trends
6 Ways to Help Your Guests Feel at Home with LSA International
From prepping your home to serving drinks and a few added extras, check out 6 simple ways to welcome guests and help them feel at home... with LSA International
4 Min Read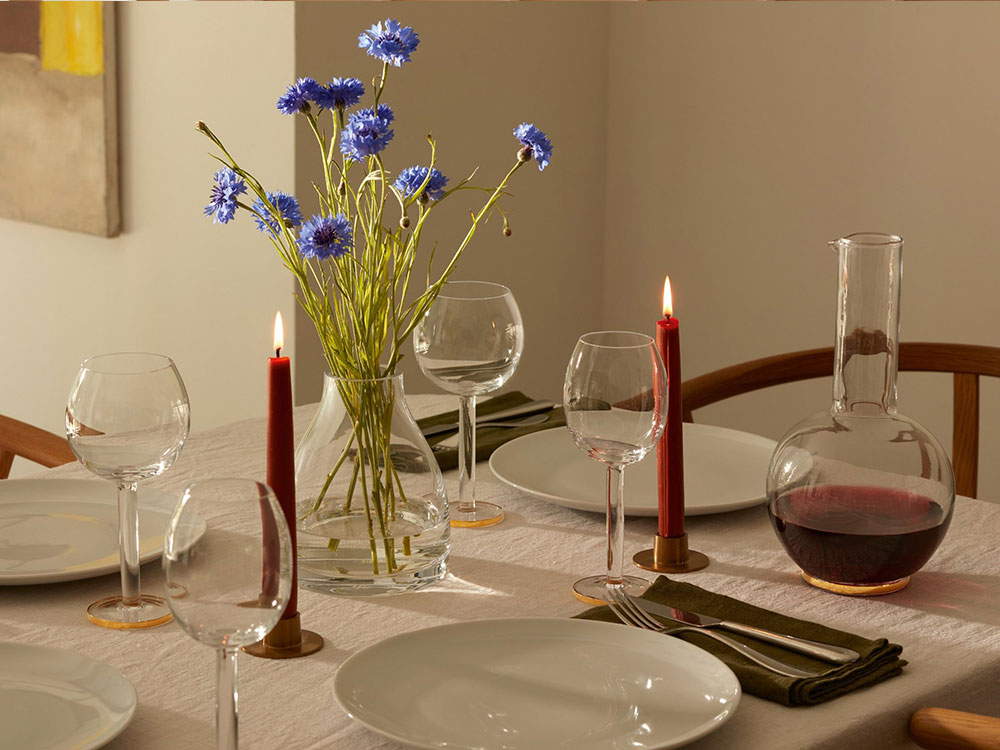 Whether they're popping in for a quick cuppa or staying for the week - when entertaining guests, it's important to make sure they feel at home. As the host, it's your job to help your guests feel welcome and well looked after during their stay. It's a large part of what putting together the perfect wedding gift registry is all about… curating those little touches that make a house a home – both for you and your future guests.
LSA International, one of our most popular brand partners, recently launched a beautiful new campaign around this exact topic. 'An Open Door' is all about those little touches and acts of kindness that help people to feel at home.
Their beautiful campaign inspired us to put together a few top tips of our own on how to make someone feel at home when they visit. And our first tip comes for free… check out the fantastic LSA glassware collection on our site and find your favourite pieces to add to your wish list!
"We are all hosts, we are all guests, and we all have something to bring to the table. Whether we are friends or strangers, the act of feeling welcomed, extending invitations and offering thoughtful gestures grounds our collections." - LSA International
1. Create A Welcoming Space
First thing's first, when expecting guests, make sure your home is clean, tidy and uncluttered. It sounds obvious, but it makes a big difference! You'll naturally want to show it off at its best anyway, but it's more than that. It's difficult for anyone to relax in an untidy space, so a little extra effort from you before your guests arrive is the first sure way to help them feel at home.
When setting up your entertaining space, a few extra touches will never go amiss. Think about adding some fresh flowers to your table in one of the beautiful LSA vases, a stylish glass fruit bowl or even some tealights dotted around if you're entertaining in the evening. All these little touches add up to show guests that you've gone the extra mile to make them feel welcome.
2. Plan Ahead
A relaxed and organised host makes for relaxed and happy guests. Whether you're planning to serve up a full three-course meal or simple coffee and cake, make sure to prepare as much as possible in advance. If you keep disappearing into the kitchen, your guests might start to feel a little abandoned. But with good planning and preparation, this situation is easy to avoid.
If it's the coffee and cake scenario, bake (or buy) your cake ahead of time and have it ready to serve on one of LSA's stunning glass cake stands. If you're going for the full dinner party, choose recipes that are quick and simple to pull together. 
And don't be afraid of making your life easier – a cheeseboard is always a hit with guests, and with a lovely glass cheese dome, you can prep it ahead of time and simply present it when you need it. The more relaxed you are when entertaining, the more likely your guests are to feel at home.
3. Offer a Drink in Beautiful LSA Glasses
They're here! Now's your time to shine - after taking their coats and getting them settled, the first task is to welcome guests with a drink. If it's an evening event, a glass of wine or a signature cocktail is sure to make them feel at home. 
Though if they've had a long journey, don't be thrown off if they request a glass of water or cup of tea to start with. It pays to be prepared for every eventuality, so make sure you have options available and take your lead from them. And of course, whatever you're serving up, make sure it comes in exquisite, sparkling-clean and handmade glasses. Browse the full LSA International glassware collection.
4. Serve a Meal
Make sure that you've factored in mealtimes into your plans. It doesn't have to be anything elaborate. It doesn't even necessarily have to be homemade! The trick to helping your guests feel at home is to serve up something you know they'll love. 
You could check in with them a couple of days before their visit to find out their likes and dislikes. And always make sure that you've taken any dietary requirements into account – you don't want to serve spaghetti Bolognese to a gluten-intolerant vegan! And of course, the other trick is to serve the meal and present it beautifully at the table.
5. Anticipate Their Needs and Desires
No guest wants to feel like they're being demanding. So, try to anticipate anything they might need or want at mealtimes, from napkins, seasonings and condiments to wine top-ups and water for the table. Jugs and pitchers and decanters and carafes from LSA International are a must-have for any host and are as practical as they are beautiful.
6. Send Them Home with a Treat
You've pulled it off! Your guests feel at home. They've been fed, watered and you've all enjoyed a fabulous visit. But now, for that little added extra, why not send your guests home with something nice 'for the road'?
An extra slice of cake or a couple of homemade cookies in a beautiful glass storage box is guaranteed to put a smile on your guests' faces as they leave.
With these handy tips & tricks, your guests are sure to feel at home when they come to visit. And with a few beautiful LSA International glassware pieces on your wedding registry, you're guaranteed to be the host with the most.