Home Styling & Trends
6 Ways to Use Aromatherapy to Make Your House A Home
Looking to de-stress or boost your mood? Aromatherapy can transform your home into an oasis of scents. Discover your favourites and add them to your wedding registry.
3 Mins Read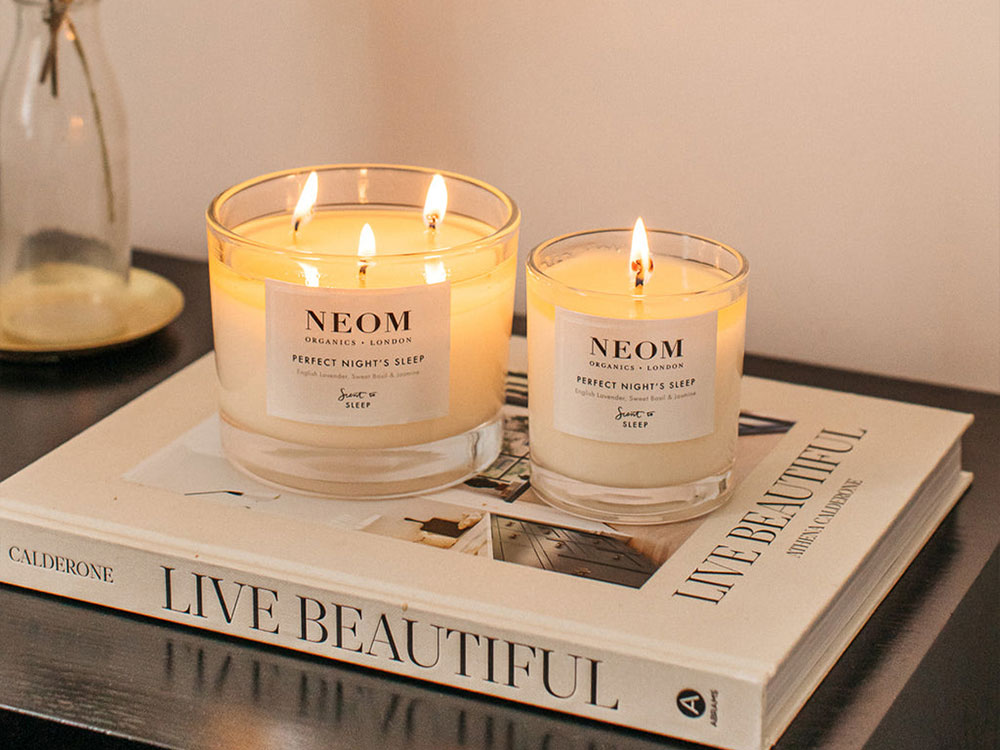 The power of scent is often underestimated. But, used wisely, it can have an incredible effect on our experience of a space. This makes aromatherapy one of the simplest, yet most effective ways to make your house feel like home. And aromatherapy products are a perfect present to add to your wedding registry!
Neom is one of our favourite brands for home scents - they offer a fantastic range of natural, organic essential oils and fragrances along with various ways of incorporating them into your home. Mix and match through the different rooms of your house to achieve the perfect balance for you & your home.
What Are The Different Aromatherapy Oils And What Are They Used For?
Essential oils are natural oils, derived from plants. There are over 90 different kinds, each with its own unique scent and potential benefits for your health and wellbeing. And that's before we start mixing and blending them together.  With so many options, it can be tricky to know where to begin.
Neom make choosing the perfect home scents easy. Their high-quality, all-natural oils and aromatherapy products are divided up into 4 main categories:
1. Scents to Make You Happy
These boost your mood and uplift the mind and body. Perfect for use in your main living spaces in the morning and during the day.
2. Scents to Boost Your Energy
These invigorate the body and sharpen the mind to improve focus and boost productivity. They're ideal for your home office or even your car.
3. Scents to De-Stress
Use these to create a haven of calm to counteract the stresses of everyday life. We love them in the bathroom to create a real self-care sanctuary, or in the living room as you wind down for the evening.
4. Scents to Aid Sleep
These relax the mind and the body to prepare for a peaceful night's sleep. A must for the bedroom as part of your evening routine.
How To Use Aromatherapy in Your Home:
1. Aromatherapy Candles
A good book (or box set), a cosy blanket and the perfect aromatherapy candle… is there any better way to spend a rainy autumn evening? There's something particularly luxurious about lighting a scented candle. It's about so much more than just home scents… the warm glow and gently flickering light combine with the scent to create an atmosphere and set the mood. Lighting your favourite aromatherapy candles signals your brain to slow down and settle in – there's nowhere else you need to be and nothing else you should be doing.
2. Reed Aromatherapy Diffuser
For long-lasting, low-maintenance home scents, you can't beat a classic reed diffuser. Simply choose your preferred blend of aromatherapy oils, place the reeds in the oil and leave them to work their magic. It's a less powerful scent than a candle or room spray, but it lasts longer – perfect for bathrooms or you could even pop one in your wardrobe to keep your clothes smelling gorgeous! Turn the reeds daily to enjoy the full effect of your aromatherapy diffuser or use fewer reeds and turn less often for a more subtle scent experience.
 3.  Neom Wellbeing Pod
As aromatherapy diffusers go, the Neom Wellbeing Pods are a super-luxurious option. These stylish electric aroma diffusers provide a powerful and long-lasting scent, while the sleek design blends in perfectly with your modern home décor. Simply fill up the water tank, add the recommended number of drops of your chosen aromatherapy oils, and then set your desired fragrance intensity and light setting. With three size options available you can enjoy the best home scents in any space, from the smallest home office to an entire open-plan living space.
4.   Aromatherapy Pillow Mist
This one's specifically for the bedroom - a soothing pillow mist is the perfect way to help you drift off to sleep. Spritz your pillow just before bedtime & Neom's soothing blend of aromatherapy oils will create a calming atmosphere that helps you to naturally relax, unwind and sleep easy. A pillow mist is especially good for anyone who struggles to sleep & the handy 5ml option is ideal to take with you, so you stay well-rested on your travels.
5. Hand Washes and Lotions
One super-easy way to get a little aromatherapy boost throughout the day… update the hand wash & lotion in your kitchen and bathroom. It's such a simple switch to make, but having that little indulgent moment for yourself every time you wash your hands can make a big difference to your mood.
6.  Aromatherapy Perfumes
And last, but certainly not least, why stop at your home? Neom also make three all-natural perfumes, so you can spritz yourself and enjoy the wellbeing boost that comes with real organic essential oils, wherever, whenever you want it. Completely chemical-free with zero synthetic scents, these are clean, gentle and perfect for everyday wear.
We hope we've given you a little inspiration on how to incorporate aromatherapy scents into your home. Which scents will you add to your wedding registry?