Home Styling & Trends
Interior Design Advice from OKA Co-Founder, Sue Jones
OKA Co-Founder Sue Jones shares expert interior design advice, from having confidence in knowing what you like to how to merge styles between you.
5 Min Read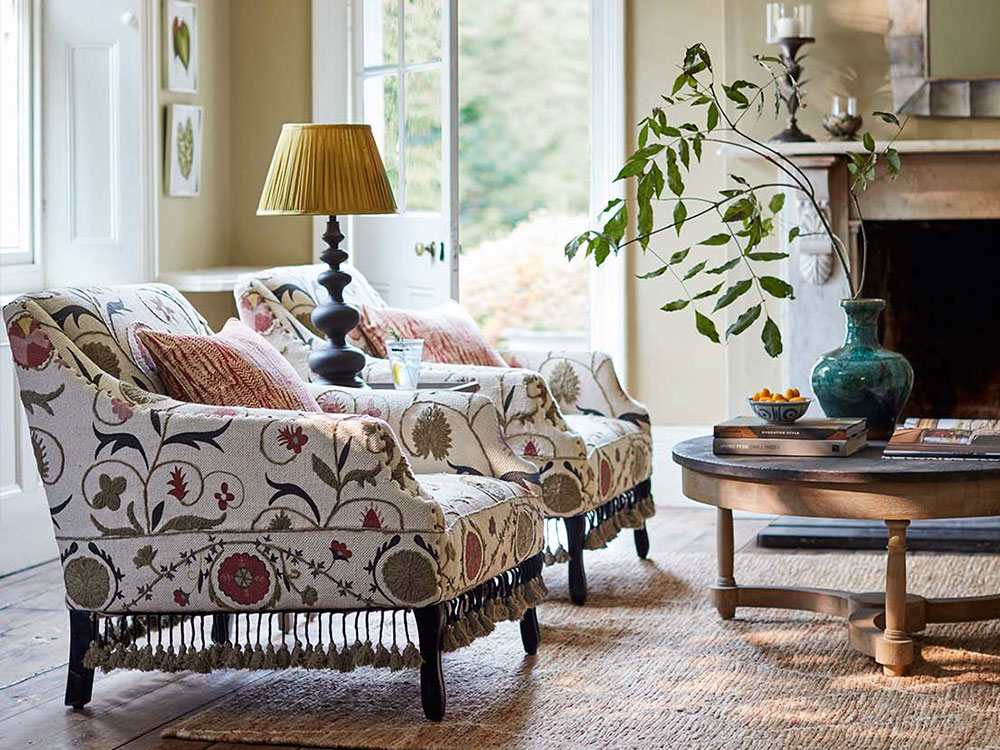 What Key Interior Pieces Does Every Home Need?
"If you've got the basics, things like a sofa, dining table and chairs, then you can start to build up the non-essential pieces, the ones that add character. I've always felt that a wonderful rug, which one can live without, is what can kick off your decorative style; you can draw on its colours and pattern."
How Can Couples Merge Their Styles Within The Home?
"Everyone has pieces that are special to them – such as Granny's chest of drawers and Grandad's hunting prints – that their other half can't stand. The key is to be tactful: don't disregard these items but try and revamp them. Make them relevant to your life and the time you're living in, so you can both enjoy them. Have pictures reframed, paint wood, change the handles on drawers – just do something to make it current and equally enjoyed."
What Makes A Great Wedding Gift?
"I thoroughly approve of lists; there's nothing better than giving someone what they really want. I love to give presents that feel complete, even if they're small, so a set is always one of my first choices. Our Isphahan and Kraak China Ranges and Round-Based Crystal Glasses are some of my personal favourites; they're something to build on and complement all kinds of interiors."
What Inspires You Inside And Outside Of The Interior Design World
"I like to keep my eyes open; anywhere and everywhere can be an inspiration. I admire people who really live in their homes and enjoy them, who aren't too precious, they're a huge source of inspiration to me. My husband has an extremely good eye for quality – I know everything he buys will be well-made and beautifully crafted – although it can be an expensive habit, at times!"
What Do You See For The Future Of Interior Design?
"I've noticed that the British, Americans and Europeans were originally guided and inspired by fabulous magazines, editorial and books, whereas more recently the trend has moved online, towards Instagram, Pinterest and interiors websites. Rather than over-influence people, this has inspired them to experiment and discover their own style. It's opened up a vast area that people can draw on and I hope that becomes more global.
Good interior design doesn't have to be about brand and price. To know when to spend money and when not to comes from confidence; it feels like there's been a huge resurgence of that and I hope it continues. People are looking at their homes in new ways now, as spaces to live and work, and that is already starting to influence design hugely."
Established in 1999 as an Interiors mail order catalogue, OKA offers an entire range of products for the home, including sofas, upholstered furniture, dining tables and chairs, curtains, storage, beds, headboards and linen, rugs, lighting and so much more. The extensive furniture range includes painted, rattan, bamboo, sofas, beds, tables, chairs and armoires.
Founded and run by Annabel Astor, Sue Jones and Lucinda Waterhouse (whose combined backgrounds are in retail, fashion and textiles), OKA added instant sophistication to the homewares market.
For more interior design advice, register with The Wedding Shop for access to our weekly emails. Or follow us on Instagram to be the first to know about our latest brand collaborations. You can also explore our blog and New In section on our site for more gift list inspiration.