Buying Guides
Best Bedding: A Step-by-Step Bed Linen Buying Guide
Finding the best bed linen for your style and preference is made simple with our helpful buying guide.
4 Min Read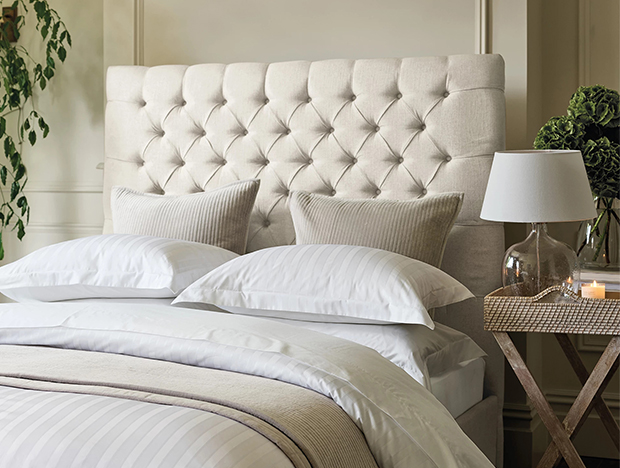 There aren't too many things in life, better than sinking into fresh, clean bed linen. Especially the kind of bedding that has been matched perfectly to your sleeping preferences. The emphasis is on you! Because when it comes to a luxurious night's sleep, it's really all about how your bed linen feels against your skin. 
Buy the best bed linen for you with our step-by-step guide. From how to select the right material and style to how to dress a bed like a designer, we've got your dream sleep covered.
Step 1: The Weave And Thread Count
Together, the weave and thread count determine the quality of the fabric. The thread count refers to the number of threads per square inch of fabric. Materials with a higher thread count are generally more luxurious and less prone to shrinkage. However, the thread count is not used to measure all fabric types. Momme is the measurement used to measure silk. Linen is naturally a higher-quality material that is very durable, regardless of its thread count.
The weave refers to the way that yarn is combined to produce fabric. For instance, the popular cotton percale uses a percale weave. A percale weave uses a traditional criss-cross pattern to create a smooth, matt finish.
Step 2: Choose Your Bed Linen Material
The second step in picking the best bed linen to match your style and preference is to choose the material. Think about how you'd like your bedding to feel. If you prefer your bedding sumptuously soft, Egyptian cotton is an excellent choice. Or, for ultra-breathable bedding, opt for linen bedding. And not to forget silk if you're after a luxurious night's sleep.
Linen
Feels: Cool & Crisp
Linen is a natural fibre made from the stalks of the flax plant. Bedding made from 100% linen is beautifully soft and airy to the touch. Renowned for its durability and breathable qualities, it's one of the finest fabrics to sleep in. Linen is also naturally hypoallergenic and anti-bacterial, which makes it an excellent option for allergy sufferers.
Egyptian Cotton
Feels: Cool & Crisp
⁠Egyptian cotton is one of the finest kinds of cotton in the world due to the long length of its fibres. Its fibres are also finer than regular cotton, producing a super-soft and durable fabric. Bed linen made from Egyptian cotton is crisp yet sumptuously soft and will keep you cool in summer and warm in winter.
Silk
Feels: Smooth and Silky
⁠Silk bedding is as glamorous as it gets. It's wonderfully soft, glossy and has temperature-regulating qualities. Silk bedding is also great for the body: it is naturally hypoallergenic, and its silky smooth surface prevents wrinkles and creases.
Sateen
Feels: Smooth & Silky
Sateen is made from treated cotton fibres to give it a slight sheen and silky feel. It is an affordable alternative to satin that is highly durable. Sateen also refers to the weave. A sateen weave, very similar to a satin weave, is produced using one under and three or four yarns over pattern.
Tencel
Feels: Smooth & Silky
⁠Tencel is the trademark name for the semi-synthetic fibres lyocell and modal. Produced from sustainably sourced wood, these fibres are combined with other fabrics, such as cotton, to create ultra-soft, breathable and highly durable bedding.
Washed Cotton
Feels: Warm & Soft
⁠Washed cotton refers to cotton that has been pre-washed to give it a relaxed look. Often used as an alternative to linen, it is cheaper, softer to the touch and requires no ironing. It's also naturally temperature regulating and won't shrink or lose its shape after washing.
Step 3: Dress Your Bed Hotel-Style
Get that plush hotel-bed feeling every night from the comfort of your home. The key is to dress your bed with proper linens, from bottom sheets and duvet covers to pillowcases. Here's everything you need to get started:
A bottom sheet or fitted sheet is elasticated on the corners to ensure it sits securely on top of your mattress. A bottom sheet protects your mattress and keeps your bed feeling super-soft when sleeping.
A top sheet or flat sheet sits between you and your duvet. The purpose of a top sheet is to keep your duvet cover cleaner for longer.
A duvet cover contains your duvet and protects it. It is easily removable to be washed and changed when needed. The two main styles of duvet covers are a plain bag (or standard duvet) cover and an Oxford cover. A plain-bag duvet cover encases your duvet, with the seams tucked away, whereas an Oxford duvet cover has an extra decorative border of fabric at the edge.
Pillowcases cover and protect your pillow. They come in a variety of styles and fabrics. The most popular style of bedroom pillowcase is the standard (otherwise known as the housewife) pillowcase. This type of pillowcase has a sewn edge, snuggly encasing the inner pillow and preventing creases. The oxford pillowcase has a similar fit but features a decorative fabric border.
Step 4: Add The Finishing Touches
Pull a look together with the finishing touches. Now is the time to get creative! Throws and bedspreads are a great way to add colour and style to your bedroom while adding an extra layer of warmth during the cooler months. Use decorative cushions in complementary colours to add layers to your bed and a splash of fun.
Bed Linen FAQs
What is the best type of bed linen?
This really depends on you. First, decide how you'd like your fabric to feel: cool and crisp, smooth and silky or soft and warm. Then look at the thread count and weave to ensure that the linen you pick is of excellent quality. 
N.B. Thread count is not used to measure all fabric types. Momme is the measurement used to measure silk. Linen is naturally a higher-quality fabric that is very durable, regardless of its thread count.
How often should you wash bed linen, and at what temperature?
To keep your bedding clean and fresh, wash it once a week. If you suffer from allergies, washing your bedding frequently is especially important. Referring to your bedding's care label will always be the safest and best way to wash it. However, generally, fabrics are washed at 40 degrees, apart from silk which requires a lower wash of 30 degrees. 
What is the best thread count for bed linen?
The thread count of standard cotton bedding is between 150 and 180. Bed linen with a thread count of 200 and above will generally be of a finer quality and feel more luxurious.
What are the best bed linen brands?
The White Company is the queen of wonderfully crisp bedding in neutral shades. For exceptional linen bedding in a range of colours, Piglet in Bed and The Linen Works are favourites. Or, if you prefer something a bit silkier, Yves Delorme and Sheridan have a variety of exceptional quality silk bedding.
Bed Linen