Wedding Planning
Wedding Presents Direct To Your Door: The Wedding Shop
Recreate that Christmas morning feeling with wedding presents delivered straight to your door! Having a gift list continues the wedding excitement after the big day.
4 Min Read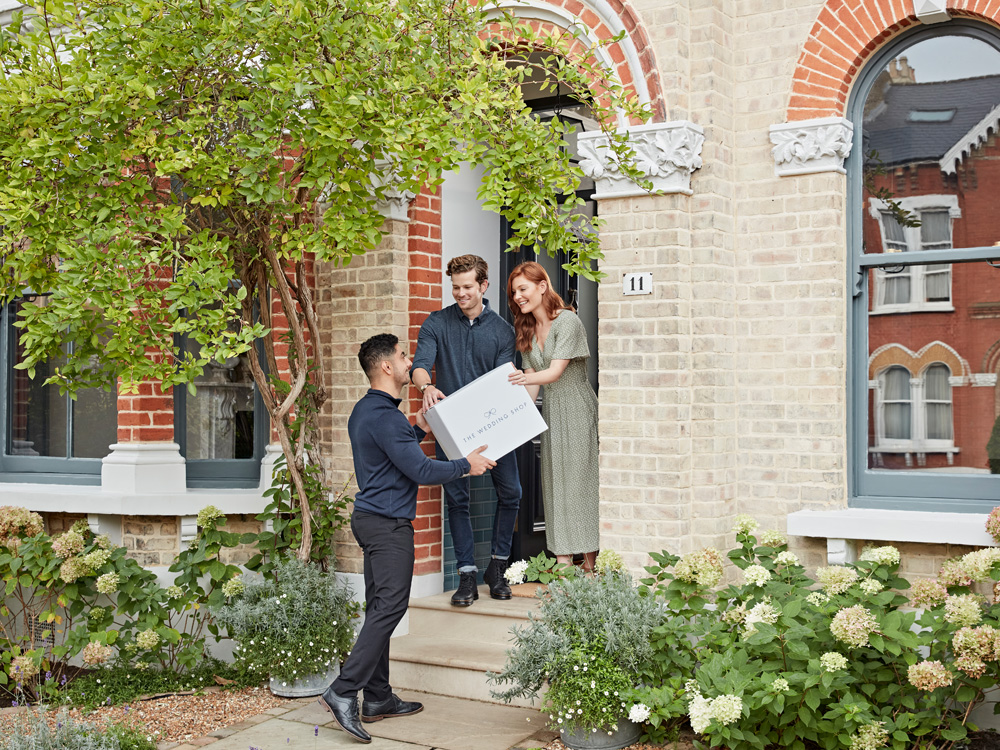 There are plenty of pretty obvious benefits to having a wedding gift list, like being able to choose the wedding presents you both love! But what about the logistics? With The Wedding Shop, your gifts are delivered direct to your door.
You won't have to worry about storage or receiving gifts at different times. Plus, your guests won't have to pay for delivery. It's like Christmas, but better.
How Will Having Our Gifts Delivered Help Us On Our Wedding Day?  
Your wedding day is all about celebrating the two of you! The last thing you want is to worry about how to take all your presents home at the end of the evening and who bought what. Having a wedding gift list takes all this stress out of the equation. With up to six months free storage, you can be confident that your presents are stored safely. Plus, your Thank You Manager will automatically record which guests purchased each gift, making sending thank you cards so much more straightforward.
Having a wedding gift list is also easier for your guests on your wedding day. They won't need to worry about wrapping your wedding present and bringing it to your venue - especially helpful if the item is fragile or heavy. The Wedding Shop will handle all your delivery requirements leaving you and your guests free to enjoy the celebrations!
Why Should We Have Our Wedding Presents Delivered?
Having your gifts delivered straight to your door means that everything arrives in one go and at a time which suits you! You don't have to keep track of multiple deliveries and worry about being available at different times. With The Wedding Shop, couples get two free deliveries within the UK, including a saturday service. You'll be able to select a date which suits you best. 
Related: Frequently Asked Questions
How Do We Let Our Guests Know That We Have A Gift List?  
If you have a wedding website, we'll give you a unique URL to direct your guests to your gift list. You should also include information about your gift list on your formal wedding invitations. 
If you like, we can provide complimentary notification cards, which you can include with your printed wedding invitations to let your guests know about your gift registry. Please contact your Gift Guru or our customer care team if you would like to request these.
How Will We Know Who Our Gifts Are From? 
Say goodbye to wed-min With The Wedding Shop! Our Thank You Manager works by automatically storing which guest bought what gift, so you don't have to. With your guests' permission, we'll even store their addresses. Then when it comes to delivery day, sending thank you cards to your guests will be a breeze! To find your Thank You Manager, simply login to your account, head to your dashboard and click Thank You Manager.
What Happens After The Delivery Day?
Delivery day has has been and gone - and it was a blast! But the fun doesn't stop there. Not only do you have forever to enjoy your lovely gifts, but we also offer all our couples a 10% lifetime discount. That means that you can continue to use The Wedding Shop to order homewares long after your wedding day!
Plus, if you refer a friend to us, we'll credit your account with £50 to spend with any of our brand partners and add £50 to your friends' account once they have registered and their list has received £200 in gift pledges.
CREATE A WEDDING GIFT LIST