Wedding Inspiration
Small Wedding Ideas: Real Couple's Best Tips To Plan An Intimate Event
Leanne and Jack threw a small wedding, surrounded by their nearest and dearest. Read their top planning tips and discover what made their intimate wedding so special.
7 Min Read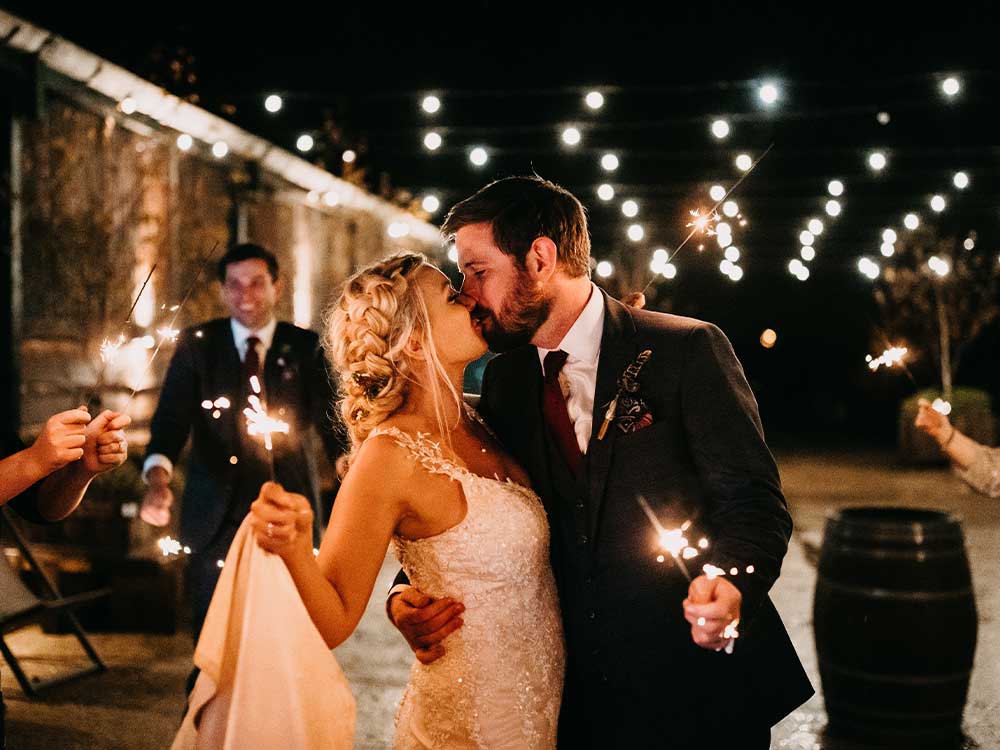 Weddings are definitely not a "one size fits all" situation. In fact, it's quite the opposite. Your wedding day is all about celebrating the two of you as a couple, in the way that will bring you the most joy! So, if throwing a huge soiree sounds more scary than celebratory, then a small wedding might just be the way to go. 
We spoke to real Wedding Shop couple, Leanne and Jack, who threw an intimate wedding at Huntsmill Farm. And let's be clear - while their guestlist was small - their wedding day was far from it! Read on to see Leanne and Jack's intimate barn wedding and get lots of small wedding ideas to plan your own.
What Is A Small Wedding?
A small wedding is an intimate celebration with your nearest and dearest. Usually, between 30 and 50 guests will attend a small wedding. This modest guest count allows more time (and budget!) to focus on the little details. A small wedding typically has a relaxed atmosphere, allowing you to spend time building heartfelt connections with all your guests.
How To Choose A Small Wedding Venue
Before you start planning the details of your wedding, decide on your venue. Knowing the size of your space will help you decide how many people to invite and how restrictive you need to be. It will also help you envisage how your styling will look in situ. Here are our top tips for finding the perfect small wedding venue:
Look At Non-Traditional Venues
When it comes to intimate wedding venues, you can be as creative as you like! It really can be anything. Throw the rule book out and think about venues which hold a place in both your hearts. Perhaps your favourite restaurant or a family home? It's worth considering a registry office too. You'll be surprised by how many beautiful town halls there are in the U.K (Hackney Town Hall, we're looking at you)!
Make A Large Venue Feel Cosy
You've cut down on the numbers, but that doesn't mean you have to have a small venue! If you're dreaming of something a little grander for your intimate wedding, then our advice is to go for it! There are many ways to make a bigger space feel intimate. It's all down to how you style and arrange your venue. 
Firstly, start by looking at how your key pieces fit into the space. Play with height and depth. If your ceilings are high, use the full height of the room, draping lights or fabrics to create an illusion of a smaller space. It will also stop a large room from echoing. Similarly, hanging a centrepiece above your wedding breakfast table will break the distance between the table and the ceiling. 
Create a focal point: this will most likely be your wedding breakfast table. A focal point helps to draw the eyes to the centre of the room. You can also introduce warm light through candles or lanterns, which will help to create a cosy (and utterly romantic) atmosphere. 
Leanne and Jack hosted their ceremony and reception at the beautiful Huntsmill Farm. Positioned in the stunning Buckinghamshire countryside, with an 18th-century stone barn and self-catering cottages, it was the perfect grand venue for them and their 15 wedding guests.
Destination Wedding Venues
If you're looking for a far-off destination for your wedding, look to Airbnb. Choose from historic homes, houses designed by renowned architects, those with stunning lake-front views, vineyards, or even castles. The choice goes on.
Intimate Wedding Ideas And Planning Advice
1. Only Invite Your Nearest And Dearest
An intimate wedding calls for a selective guest list. You'll want to be surrounded by those closest to you. Think about who you've talked to in the last six months and if you can imagine getting married without them there. 
We know narrowing down a guest list can be tricky, but have confidence in your decision and remember this is your day! Invite those people who make you both happy and feel special.
2. Make It Personal
Personal touches are what make a small wedding even more special. So go all out with the little details! Wedding favours are a great place to start. After all, you know all your guests so well, so why not design a wedding favour they will cherish forever? Or, make each seat at the table extra special with personalised place cards and bespoke menus. 
Incorporating family heirlooms into your styling is an instant way to make your wedding more personal. For example, you could use your grandparents' wedding china for your wedding breakfast. Leanne and Jack's wedding brimmed with personal touches. So much so that their first dance was accompanied by three favourite furry friends: their two cockapoos and chihuahua.
So when it comes to making your wedding day personal, the opportunities are endless! With more time and budget to hone in on the details, you can really get creative! What's most important is that these touches are meaningful to you both.
3. Say Yes To A Wedding Planner
With any wedding, big or small, it's always a great idea to have a wedding coordinator. What makes a small wedding so special is the chance to spend more time with your nearest and dearest. 
The last thing you want is to worry about wedding logistics - whether there's enough alcohol, if people have eaten or if your wedding decorations are all set up. A wedding coordinator will take that stress away and leave you both to spend time where you're most needed: with your loved ones, having the time of your life!
4. Be Creative With Guest Seating
Our best advice is to think of seating arrangements where you and all your guests can sit together! Round, long or u-shape tables are a great option. Decorate with feasting boards to encourage your guests to mingle. Plus - these types of tables make an excellent statement piece which will easily pull your wedding theme together. 
5. Indulge In Fine Dining
Use the smaller guest count as an opportunity to spoil your guests (and yourselves) with all your favourite tastes! You could hire a private chef, create a bespoke menu or go all out with a wine and food pairing! We expect no empty plates left here. 
Alternatively, if you're looking for a cheaper, low-fuss option, a cheese and charcuterie board is a great option. It also encourages a collaborative eating experience, where guests can mingle while feasting on plates of deliciousness.
6. Invest In A Wedding Photographer
A wedding photographer is a must. There will be so many unforgettable moments during your intimate wedding day, which will need to be captured by an expert! Trust us: this is one aspect of a wedding you'll be grateful you didn't compromise on! Wedding Photographer Emilie May captured Leanne and Jack's wedding.
7. Go All Out On Your Priority Items
One of the best things to do when planning your wedding day is to list your priority items. Perhaps you would like to focus on wedding entertainment, such as a live band? Or maybe your wedding breakfast table and a bespoke menu will be the main attraction? 
Once you've decided on your must-haves, these will become the styling focus of your wedding day! It will help you work out your wedding budget, how much money you'll have left to spend on the little details, and also what aspect of your wedding to focus on first.
8. Venue Transport
A smaller number of guests allows you to have a little fun with transport! We love the idea of all your guests travelling to your special day together - and in utmost style. Perhaps on a canal boat, vintage bus, camper van or a horse and carriage? Or, in Leanne and Jack's case, an orange tractor. (We're joking. There's no way 15 guests and two gorgeous fluffy dogs could all fit on that, but it's a great photo!)
Leanne And Jack's Sentimental Wedding Gift List
Leanne and Jack's wedding gift list was just as personal as their special day. They used their gift list to invest in their future together, from decorating and honeymoon funds to gifts for their baby Olivia. 
Leanne and Jack's wedding took place during covid 19. Despite these circumstances, they loved every minute of their intimate wedding. Choosing a gift list with The Wedding Shop allowed their guests to be involved in their special day, even though they couldn't physically attend their ceremony. 
They loved reading the gift messages left by their guests with each purchase. Plus, The Wedding Shop's 'Thank You Manager' made organising thank you cards straightforward.
What Was Your Favourite Wedding Gift And Why?
We got a random monkey bottle holder (we had picked it for the list and had bets on who would get it for us - we got it right!) The message from our guests who purchased it makes me smile every time I look at it.
And that's everything you need to know about throwing a small wedding. From organising your guest list and finding the perfect venue to all the little details that make a small wedding special, we hope we've left you armed with all the knowledge you need! 
Are you looking for more wedding inspiration? Why not look at this real Wedding Shop couple's Hollywood glam black-tie wedding?
Start Your Gift List