Culture & Lifestyle
5 Autumn Recipes To Fall In Love With
Warming soups, comforting stews, tasty fall baking and so much more… warm your cockles with our top 5 autumn recipes!
4 Min Read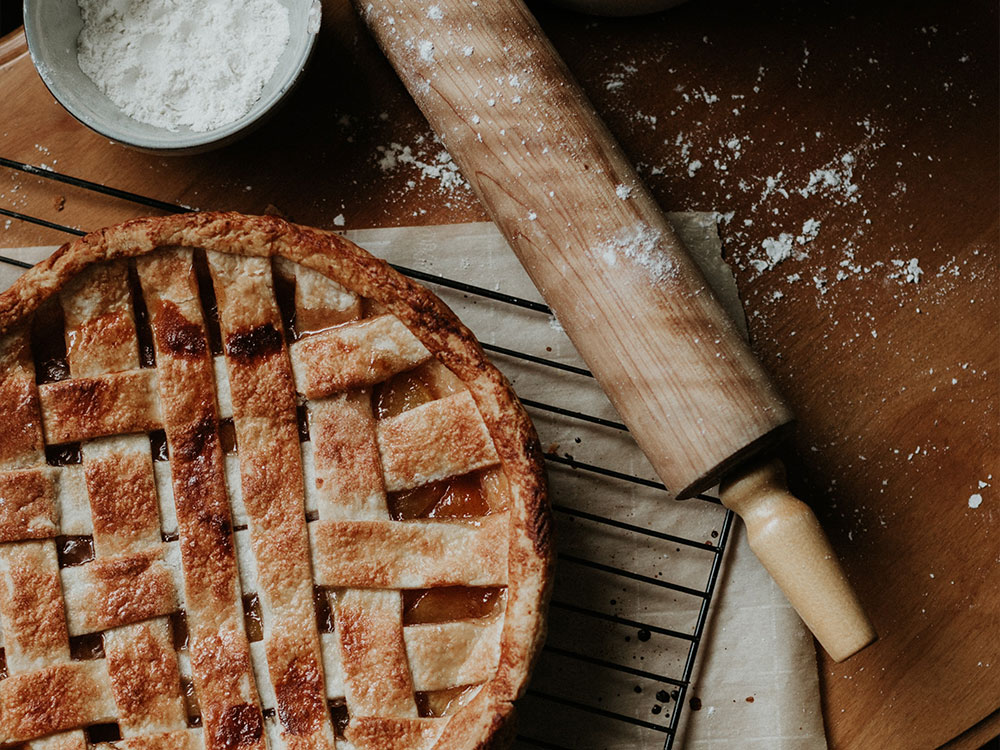 The leaves are starting to turn. The kids are heading back to school, shiny new shoes on their feet and sharp new pencils in their cases. It's official, pumpkin spice season has arrived!
But what is the number one comfort food for fall? Is it a hearty meat stew, a warm root veggie soup, a decadent dessert… or something else entirely? Here at the Wedding Shop, we're keen to answer this question once and for all. So, we've scoured the BBC Good Food site to bring you the best of the best when it comes to autumn recipes.
We've also thrown in a few suggestions for kitchen bits and pieces you might like to add to your Wedding Shop gift list to help you make the most of your autumnal culinary creations!
1. Spicy Pumpkin Soup
We simply have to start with the OG. The autumn recipe to end all autumn recipes – Pumpkin soup! What could be more fabulously autumnal than a steaming bowl of creamy, spicy goodness? And it's not just about the end result… the whole soup-making process is such a wonderful way to cheer up a gloomy October afternoon. 10 points to Gryffindor if you visit the pumpkin patch to pick the perfect pumpkins yourself and extra bonus points if you also carve one ready for Halloween!
This has all the things you want from the perfect fall soup recipe: the smell of gently simmering onions, punctuated with bright, yellow pumpkin, a shot of fresh ginger, chilli and warming seasonal spices, all blended through with a healthy helping of thick double cream… YUM.
Of course, you could use a regular casserole or stockpot to prep your soup (you can find hundreds of options on the wedding shop site to add to your wish list). But why not go full autumn domestic goddess and present it in the iconic Pumpkin round cocotte? Then serve it up in the stylish Denby studio blue bowls to bring a pop of fall colour to your table.
2. Apple & Blackberry Crumble
As well as all the obligatory soups, stews & risottos, we couldn't write a post about autumn recipes without mentioning a bit of baking! September heralds the return of the Great British Bake Off to our screens every year. And we don't know about you, but we love nothing more than curling up to watch with a cuppa and a slice of something homemade!
How about this ultra-easy apple and blackberry crumble? Made with seasonal autumn fruits, it's warm, comforting and best served with a generous dollop of vanilla ice cream!
APPLE & BLACKBERRY CRUMBLE RECIPE
If you consider yourself a baking whizz, you should absolutely check out our huge range of bakeware and pop a few bits on your wedding list. Our personal faves – especially for autumn – have got to be Fenella Smith's adorable Labrador baking dish and matching stacking bowls. And just in case black labs in tiny chef's hats aren't your thing (what kind of monster?) they have pugs and mini dachshunds too!
3. Slow Cooker Sausage Casserole
If you don't have a slow cooker yet, what are you waiting for? September marks the official start of slow cooker season. Casseroles, stews, spicy tagines and so many other classic autumn recipes work perfectly in the slow cooker. Picture the scene: you throw the ingredients together in the morning, leave it cooking and bubbling away on low all day, then come home from work to find dinner ready & waiting. Simply dish up, pour the wine & enjoy your hearty, homemade sausage casserole!
A rustic recipe like this one deserves to be served on an equally stunning dinner service. We love it on the Studio Craft Dinnerware set.
4. Butternut Squash & Sage Risotto
There's something so comforting about a risotto. And for our money, this one is perfect. The creamy, carby goodness, the sweet, bright roasted squash balanced with herbal green sage and the perfect amount of parmesan… Add to this the fact that it simply won't be rushed. You can pour yourself a large glass of crisp white wine (one for you, one for the pot!) then settle in for at least 45 minutes of standing, stirring, sipping and tasting.
BUTTERNUT SQUASH & SAGE RISOTTO RECIPE
You can't beat a classic Le Creuset cast iron casserole for all things soup, stew & risotto… It really is the all-star accessory when it comes to cooking autumn recipes. We love it in their iconic volcanic colourway. Then why not complement the colourful orange cookware with the Denby Imperial Blue Dinnerware to serve?
5. Super Quick Sticky Toffee Puddings
We're going back to the realms of autumn baking now. But if your baking ability is less Mary Berry and more, well… Matt Lucas & Noel Fielding… don't panic! This one's for you. This sneaky cheat's autumn recipe takes crumbled-up chocolate muffins, some sultanas, sugar, butter and double cream and in just 15 minutes, transforms it all into individual steamy sticky toffee puddings! It's minimum effort and maximum deliciousness.
Sounds too good to be true? Try it yourself & see! 
Mix them up in the super-cute Forest Fox Mixing Bowl and serve in the colourful Rainbow Ramekins by Le Creuset. They're guaranteed to cheer up any grey November day.
Bonus Autumn Recipe: Pumpkin Spice Latte
You didn't think we'd leave you hanging there, did you? Of course, the last of our classic autumn recipes is the one and only PSL – pumpkin spice latte! All you need to make this ultimate autumn treat is a little leftover pumpkin puree (this should be easy enough if you started by making the soup!) some common store cupboard spices, strong coffee and your choice of milk.
Coffee tastes better when brewed and served in style, so make sure to check out our full range of tea & coffee sets and add your faves to your list! We love the Studio Blue Cafetiere by Denby and the colourful Orla Kiely Stackable Mugs to serve.
Wishing you cosy vibes and top-tier comfort food this fall - have fun trying out all these classic autumn recipes for yourself!