Wedding Inspiration
Monica Mills Sustainable Wedding & Gift List
Plan a sustainable wedding and gift list with slow fashion blogger and bridal editor Monica Mills. Expect luxury style and homewares from renowned brands and independent artisans.
3 Min Read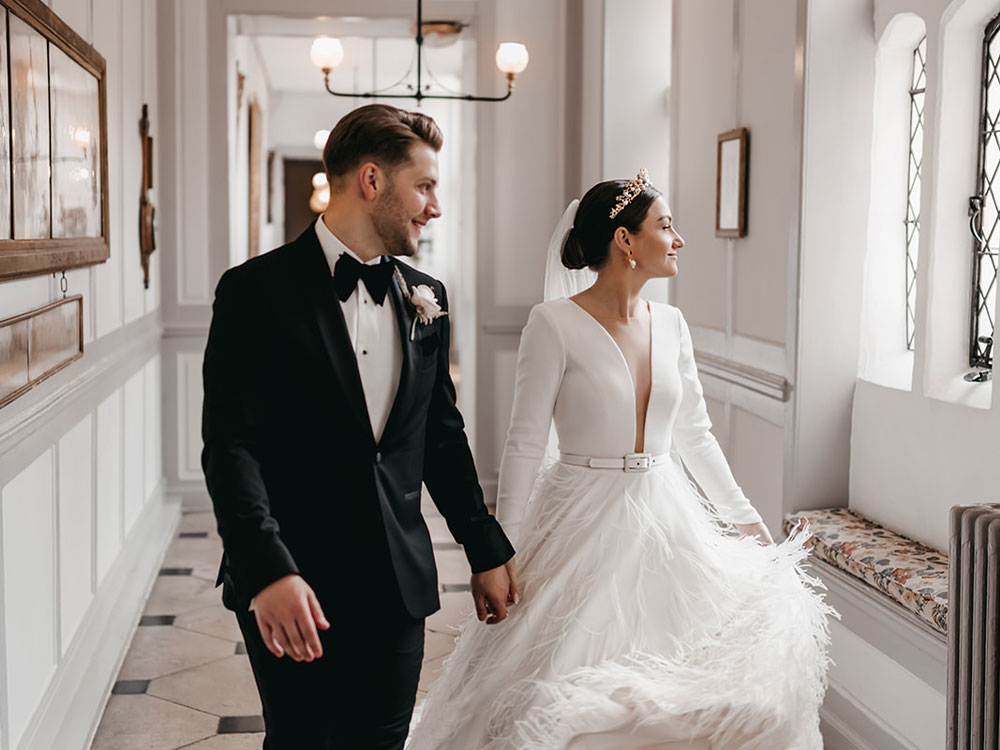 Monica Mills and Alexander Brown's wedding has stolen our hearts. They proved that luxury doesn't have to come with a cost to the earth. In fact, making eco-conscious decisions helped them focus on their unique style as a couple. Think antique accessories and second-hand decor, all located on the grounds of a once-royal palace.
Their gift list choices were just as considered. Opting for key pieces to last a lifetime, their guests gifted them homewares from renowned brands to independent artisans.
The Wedding
Let's start with THE dress. With the help of designer Emma Beaumont, Monica dreamed up a sustainable wedding dress fitted with a contemporary waist belt, ruffled feathers and an a-line silhouette. All while gently nodding to the 1930s with statement shoulder pads. 
But it doesn't stop there. Slow fashion is a priority for Monica. With that in mind, many elements of her wedding dress were designed to be reused. Her dress has now been repurposed and turned into a jacket, and her feathers into an elegant strapless piece.
Their styling for the day was just as thoughtful. Monica made every wedding favour for their guests by hand - a lovely way to thank their guests for celebrating their marriage with them.
Best Tips for Planning an Eco-Friendly Wedding
Monica has kindly shared her top tips for throwing your dream wedding while minimising your impact on the environment, from choosing independent suppliers to buying second-hand.
"Use local suppliers and try to support independent brands. So many local businesses need support and use sustainable fabrics, materials and methods. And don't overdo it! Do you really need a three or four-tier cake? Will it all actually be eaten? Ensure to consider where items may go to waste.
Recycle, recycle, recycle! Incorporate second-hand items into your decor, gifting and even style. For my decor, I used thrifted items such as upcycled vases, candle sticks, and a mirror from Facebook marketplace for £10. Even my bridal bag was from a second-hand reseller. Use sustainable materials for your table favours too. Avoid plastic, sequins and anything single-use! 
Consider buying your wedding dress, bridesmaid dresses and accessories second-hand. It's more cost-effective and better for the planet. If you buy first-hand, buy items that aren't strictly bridal so you can use them after your wedding. Don't buy things covered with your wedding date or plastered with "Bridesmaid" to give to your wedding party. Think about the aftermath of the wedding. Is it something they will want to wear again?
Use dried flowers for your wedding day. Not only are they sustainable, but they last long after your special day. Seeing your home decorated with your bridal bouquets is the best feeling. Shida flowers, available at The Wedding Shop, are a favourite. Opting for seasonal bouquets from local suppliers is also another great option."
Top Wedding Planning Tip
"Don't follow trends! It's easy to fall into the trap of chasing the current trend - try to follow your gut and authentic style. My second tip is to remember it's only a wedding, you don't need to stress, it'll ruin your day!"
Building A Sustainable Wedding Gift List
Monica and Alex's wedding gift list was a curated blend of homewares from renowned brands and independent artisans. They focused on longevity when building their list, opting for timeless items they could pass down to future generations. Flick through their list, and you'll find established brands like Wedgewood, LSA International and OKA. As well as carefully crafted pieces from independent brands - botanical ink-printed napkins by artist Rosanna Corfe and expertly blown glass candles from Issy Granger.
The Forever Gift Collection
The Forever Gift Collection champions the importance of considered design, created with people and the environment in mind. Discover beautiful homeware crafted by artisans in ceramics, glassmaking and metalworks, and fall in love with timeless gifts you'll cherish for years to come.