Wedding Inspiration
Alexandra And Edward's 2020 Wedding
Wedding Shop Couple, Alexandra and Edward, share their experience of celebrating their big day in 2020. Let their story and wedding gift list inspire you.
5 Min Read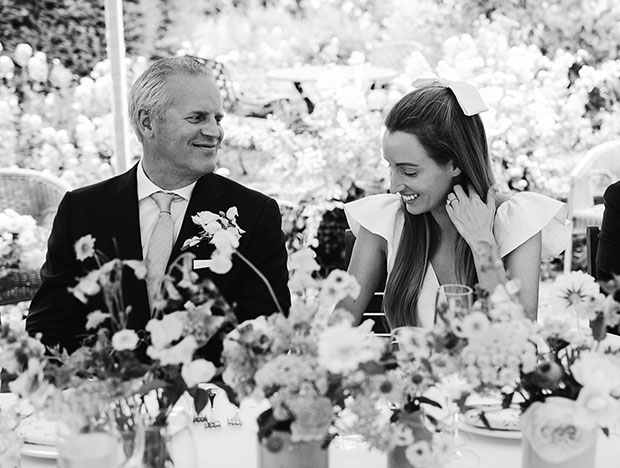 Like so many couples, Alexandra and Edward had their wedding plans turned upside down due to COVID-19. Although 2020 was not what they had expected, the twists and turns they had to overcome have been a wonderful reminder of what really matters. Learn how having a Wedding Shop gift list helped them to keep the positive wedding feels alive, as Alexandra tells their beautiful story.
Their Original Wedding Plans
We chose the amazing Savile Rose as our wedding planners for our celebration in July. We booked The Royal Naval College in London, a breathtaking world heritage site on the river. The wedding blessing was to be in The Royal Chapel on the grounds. With their amazing choir, a drinks reception in the colonnades, dinner in the painted hall and then the afterparty in the vaults below. The night before we wanted to have a drinks party for our groomsmen and bridal party at Annabel's and we were going to leave for Mykonos the day afterwards with friends. I had also tried on some heavenly wedding dresses and ordered one to be made for me, with fittings to start in May.
Change of plans
We were both in New Zealand in February when Covid-19 started rearing its ugly head. So, I flew back to the UK and posted wedding invitations to our 260 guests. With love and hope that the situation with COVID would be over by July. I visited The Wedding Shop's London Townhouse to start building our list in March. Recommended by a newlywed friend of mine who said The Wedding Shop is the dream (she was right). Full of optimism that the wedding would go ahead as planned, I used downtime during lockdown to build our wedding list, which was a great distraction.
Of course, our wedding didn't go ahead as planned. Instead, my fiancé and I were stuck on opposite sides of the world, with so many unknowns. The wedding planning industry ground to a halt. Including the people making my dress, international travel bans were put in place and then the government put a blanket ban on weddings. So, with the wellbeing of our friends and family being so important to us, we made the decision to cancel our London celebration. This was a really tough time letting go of all we hoped our wedding would be.
But, we realised the most important thing was the core of the wedding celebrations which is the marriage, so we decided to find a way to make that happen.
"Last summer while in Capri, Edward got down on one knee at sunset and asked me to marry him. It was a dream come true and I couldn't wait to start planning the wedding I had been thinking of since I was little."
Our Perfect Day
On July 4th, the day the ban on weddings lifted, with a lot of super speedy planning and a very helpful vicar, we married. We chose a small church where my parents live in the Cotswolds. It was a completely dreamy day, overflowing with my favourite flowers and positive vibes. Everyone's generosity in making the day happen was incredible. KALITA, my favourite designer, helped me to find a beautiful white cotton dress to wear. It was in keeping with the new whimsical romantic garden aesthetic.
Illustrator Susannah Garrod designed us a wedding monogram to match our flowers as a wedding present. My godmother made the wedding cake and we had a wonderful harpist from our original wedding venue play, as no singing was allowed. I also made confetti with my Mother from her roses. I did my own hair and makeup as we couldn't have anyone outside our bubble in the house. One of my best friends sent me something blue as she was stuck in New York.
This year is certainly not what we expected and our original plans were truly turned upside down. But I am so happy that I have now married the man I love. 
All the twists and turns of getting us here have been a great reminder of what really matters. Which is that we are now married and can't wait to start the rest of our lives together.
Why We Love The Wedding Shop
Our Wedding Shop experience through all of this has been SO happy and fun. Totally a silver lining on some rather dark days! As we realised one by one that the usual wedding things wouldn't go ahead; food tasting, the wedding dress I was having made, visiting florists, the choir, my hen party in Paris etc. It was wonderful to have one thing that ran better than ever expected, our wedding gift list.
Every time we got an email saying someone cared enough to get us something for our future together, it made me so happy and feel like a normal bride again.
How Our Wedding Gift List Fit Into Our New Plans 
The service at The Wedding Shop has been the total dream. The gift list details were printed on the information cards that were posted out with our wedding invitations in March. Then as our plans had to change and evolve, the list stayed open and was easily accessible to our guests. The notes popping up in our wedding inbox with some of our favourite things meant the world to us. Especially as one can feel quite alone wedding planning during COVID. We have also been able to leave our list open for our guests to access whenever they like, as we may have a larger celebration next year.
Even though not everyone was able to celebrate our future together by being present at our marriage, they could celebrate it instead by choosing items from our list and leaving us beautiful messages on the Wedding Shop website.
Why Our Friends And Family Loved That We Have A Gift List 
With so many of our guests living abroad, having our list online with The Wedding Shop has been ideal. The variety has also been so great for both us and our guests. From my husband's favourite Slim Arrons prints, which were the first things to be pledged, to my favourite Green KitchenAid (in green for New Zealand) to a little china cow butter dish, from an organic Daylesford farmer friend.
Having a gift list has been a nice way for people to still show their love and be a part of our wedding, even though they couldn't be there to celebrate in person.
Alexandra's Advice For Staying Positive If You Get Engaged During Difficult Times
Don't waste time being stressed over the things you can't control or plans that can no longer be. Breathe, relax and let those things go. Instead, choose to focus on all the positives and blessings you DO have and what you can make happen. Take each day as it comes and try to think of each hurdle as it comes up as something to solve or an opportunity to do something better, rather than a dead-end.
And remember the biggest positive of all, is that you have found the person you want to spend the rest of your life with! Anything else extra is a wonderful blessing.
With love Alexandra xxx