Wedding Inspiration
What Is A Black-Tie Wedding? Inspiration From A Real Hollywood Glam Wedding
Let Jess and Tom's Hollywood glam wedding answer your top questions. Including what to wear and what to expect from a black-tie occasion.
5 Min Read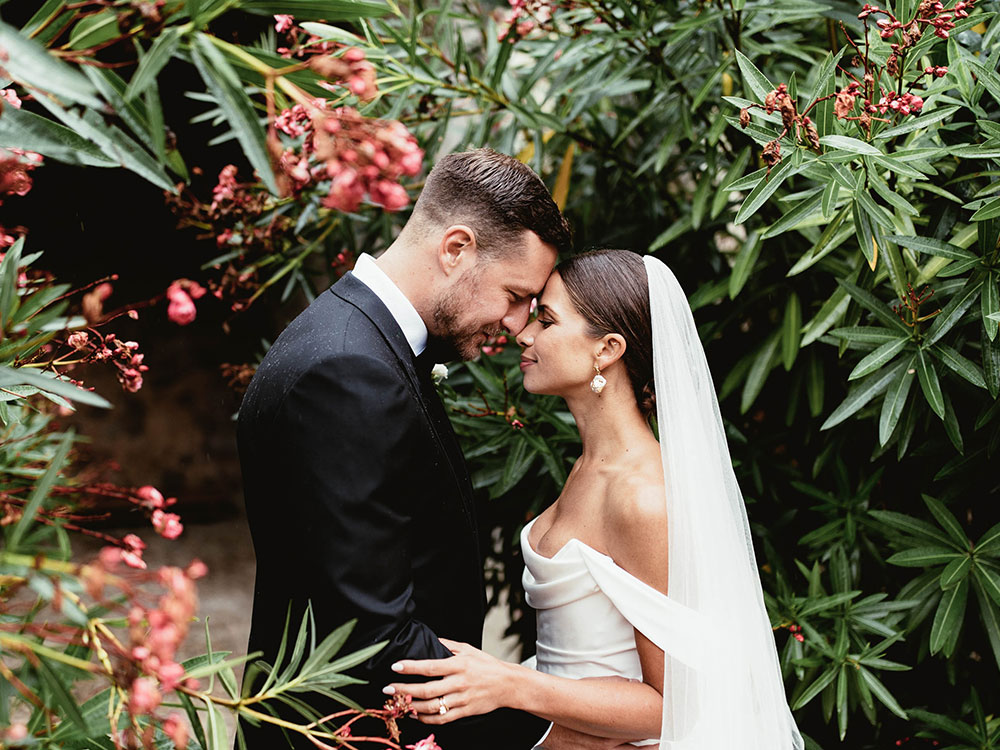 Dress code aside, what can you expect from a black-tie wedding? Think all things elegant. Jess and Tom chose the most picturesque french chateau to say their I do's. Their styling was traditional in creams and white, adorned with opulent details, including a mouth-watering croquembouche.
And while fancy, their black-tie event certainly didn't compromise on fun. After all, where else could more fun be had than in a grand castle, surrounded by friends and family? Jess even had an outfit change that saw her dance the night away in a dazzling white sequin dress.
What To Wear To A Black-Tie Wedding?
Let's cut through the confusion and unpack the black-tie dress code. Traditionally at a black-tie event, women would wear long evening gowns, hems gently sweeping the floor, and men dressed to the nines in tuxedos. But times have changed, and so has this formal dress code.
Today, the modern black-tie attire embodies all things classy. It also has more flexibility. So, if you've been waiting for an opportunity to go all out 'Bridgeton-style', dressed to impress in an embellished maxi dress or silk-detailed tuxedo, this is the perfect occasion! And if that's not your style, there are many elegant black-tie alternatives.
Top Tip: If you want to dress to the nines without buying a new outfit, consider renting or buying second-hand. We recommend Recycle My Wedding, Hurr and Hirestreet.
Do I Have To Wear An Evening Gown To A Black-Tie Wedding?
Aside from floor-length gowns, guests can opt for shorter dresses, especially during a day reception. The key here is to keep in mind the length and style of the dress. Sophisticated cocktail dresses that fall no higher than just above the knee, or elegant midi dresses, are a popular black-tie alternative. Don't be afraid to pick fabrics that speak to the world of glam either, such as chiffon, velvet or silk.
If dresses aren't your thing, then jumpsuits or trousers are a modern addition to the black-tie dress code. And we're all here for it. A satin or chiffon jumpsuit is always effortlessly elegant, or if you're after something with a little more detail, there are many gorgeous ruffled and embellished jumpsuits to tempt you.
A tailored trouser (we love palazzo trousers!) paired with a stylish top is the perfect option for a black-tie outfit you can wear again.
Top Tip: Use classy accessories to upscale your outfit. A pair of dressy heels and a matching clutch bag will elevate your look and pull it together. 
Can I Wear A Suit To A Black-Tie Wedding?
For guests who wear suits, wearing a tuxedo is your safest bet, especially during an evening service. What makes tuxedos the favourable black-tie wedding attire is their black satin detailing.
Typically, a tuxedo is embellished with satin details on the lapels, buttons, pockets and a satin stripe down the side of the trouser leg, adding an extra layer of sophistication. However, for a reception during the day, guests can get away with wearing a classic black, grey or navy suit, dressed up with a bow tie.
A Wedding Gift List To Match The Occasion
Jess and Tom didn't compromise on style either when it came to choosing their wedding gifts. They picked The Wedding Shop because it offered flexibility to mix homewares with experience gifts. They added cookware to help them build their dream kitchen look and experiences such as a stay at The Pig at Bridge Place in Kent. Dreamy.