Wedding Inspiration
Charlotte And Charles' Wedding Shop Gift List Experience
A couple who chose the meaningful little touches, from the stunning bride's wedding dress to their gift list. Discover a wedding that will bring joy every day.
4 Min Read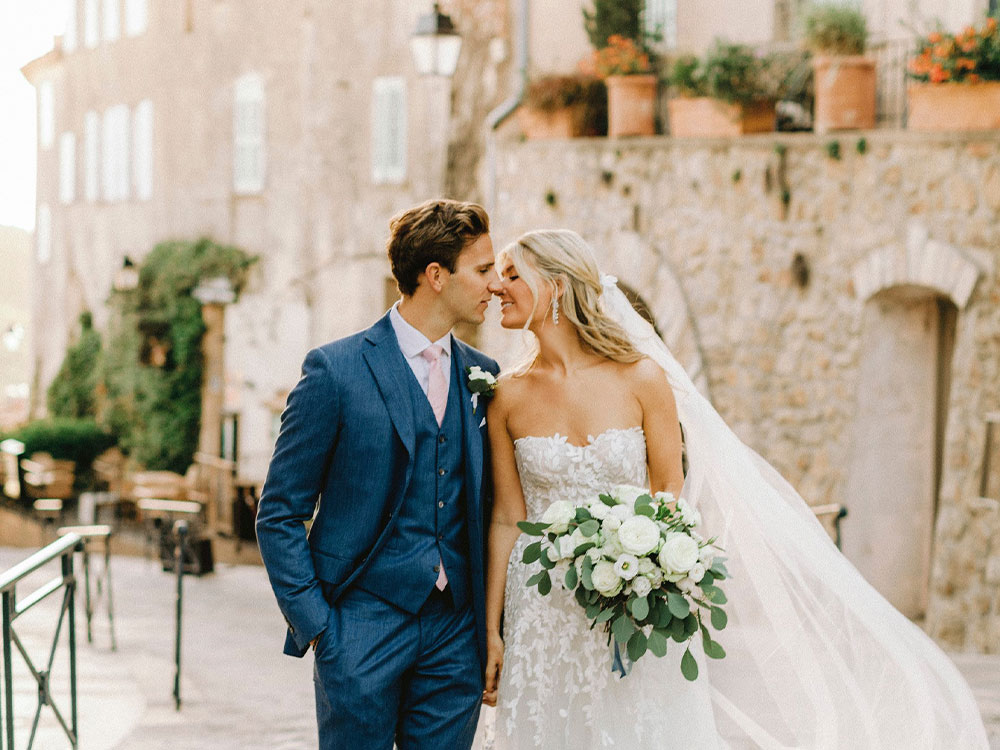 Charlotte and Charlie tied the knot in the UK at their local church, surrounded by their family,  followed by a second celebration in the South of France. And although it rained, what really mattered was that they were showered with love by their nearest and dearest. 
For Charlotte and Charlie, it is all about the meaningful little touches. From the stunning leaf detail in Charlotte's Miar Zwillinger dress to their wedding gift list choices that bring them joy every day.
The Wedding Shop Gift List Experience
We had the most wonderful experience with The Wedding Shop and would highly recommend it to any future bride and groom-to-be. We particularly loved visiting the Townhouse in Chelsea. We felt so inspired and excited when we left, that we started our wedding list online that evening. The website is really customer-friendly and easy to navigate, which makes it such an easy experience to pick and choose what you want to add to your list. We were also super impressed with the management tool, which helps you track who has bought you what gifts and helps you manage your thank you cards. We also loved how they teamed up with our favourite stationery brand, Papier, with a special discount code.
Our Most Treasured Gift
We got an incredible painting from a special group of friends. It's so special to get something that you can keep forever.
Our Most Useful Gift
Our 44-piece set of cutlery! We love to host dinner parties and I love to create a stunning table setting. We were gifted this by my parents' best friends, who also received a cutlery set for their wedding 54 years ago and still use it daily. There are so many stories behind each gift, which is so special.
Our Top Tip For Creating A Gift List 
My top tip for creating the perfect wedding list is to make sure that you are adding enough items at all different price brackets for all of your guests. For instance, we wanted to make sure we had plenty of gifts between £15 to £30 for those who wanted to buy us a gift without breaking the bank (but why not also have a little bit of fun and add that £1000 coffee table to your list - you never know who might surprise you)!
Why We Had A Gift List
There is nothing worse than receiving a present that you simply don't want, like or have any use for. By using the Wedding Shop, you can guarantee to be in love with every single gift you receive. I also love how every gift has sentimental meaning and reminds us of the person who purchased it for us.
Why We Chose The Wedding Shop
We have attended around thirty weddings in the last three years (crazy I know) and The Wedding Shop was recommended by so many other couples, who were always extremely pleased with their experience and service. We visited the Chelsea Townhouse after work one evening, which was a wonderful experience and got us very excited to get started on our list. The team were lovely and very welcoming, and we had great fun discovering each room with a glass of bubbles in hand. 
The website is incredibly easy to navigate and user friendly, which made our experience of adding gifts seamless. The selection provided was also super relevant to what we were after as a newly engaged couple and had all our favourite brands. We also loved how we could add activities and experiences, such as hot air ballooning, swimming with turtles or even a skydive to enjoy on our honeymoon. It's so special thinking of those people whilst experiencing those activities. We also loved the "thank you manager" that The Wedding Shop provides. It made the task so much easier with addresses and item descriptions - I don't know if we could have gotten through all our thank you cards without it.
Start Your Gift List