Wedding Inspiration
Lincolnshire Church Wedding: Cara And Tom's Wedding Story
Looking for tips on how to plan a church wedding? Cara and Tom's wonderful day will give you all the inspo you need! *Sneak a look at their wedding gifts, too*
5 Mins Read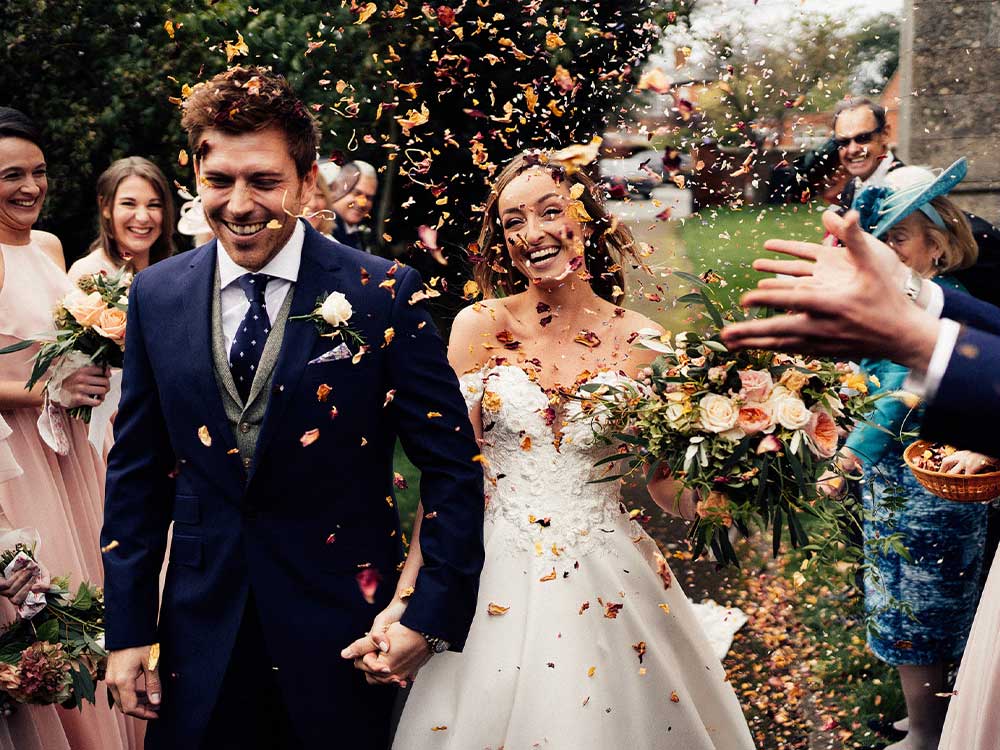 As far as wedding planning goes, a church wedding could seem quite straightforward with its traditional elements and popular wedding day schedule. But, who doesn't like a few tips and advice from someone who's recently been there?
Take Cara and Tom, for example. Their beautiful church wedding, along with details on their wedding gift list experience, will give you plenty of food for thought to make your wedding an intimate and memorable experience.
Church Wedding Planning Advice
Something I quickly learned was to ask for recommendations! We found our caterer, florist and photographer all through recommendations. They were all absolutely incredible, perfectly suited to us and such lovely people too.
Wedding Inspiration And Styling
As we both grew up in the Lincolnshire countryside, this was our main inspiration for the day. We wanted lots of greenery and foliage to reflect this, while also ensuring that it felt elegant and chic. We injected some colour with peach and blush tones. My favourite detail of the day was our amazing flower arch for the church entrance.
What Is Your Favourite Wedding Day Memory?
My favourite wedding day memory is walking out of the church straight after getting married. I couldn't believe we had finally been able to get married – nothing else mattered at this point! From that point onwards we were both grinning our faces off for the rest of the day – our guests commented they had never seen such a happy bride and groom!
How Did You Get Engaged?
Tom booked a gorgeous cottage in Wales for a weekend away. We had been out for a delicious tasting menu (my favourite!) and had returned to the cottage just in time to sit out on the terrace overlooking the hills with a glass of champagne to watch the sunset. That's when he popped the question – it was perfect.
How Did You Meet?
We met in Freshers Week at Leeds University – I was a bit lost and asked someone for directions to a seminar room. Tom overheard and realised we were in the same seminar, and promptly proceeded to follow me down the corridor and introduce himself! He then added me on Facebook the moment he got back to his flat – which I like to regularly remind him of.
What Was Your Wedding Shop Gift List Experience Like?
We loved the quality brands available to choose from and we had a really fun afternoon at their showroom in Chelsea. It felt like everything on offer was of excellent quality and would last us a lifetime. All the staff were so friendly, knowledgeable and helpful – we received great customer service in person, over the phone and by email. Everything together made for a great experience and we would absolutely recommend them to anyone.
Why Did You Have A Wedding Gift List?
We had a wedding gift list to provide our guests with one place to go if they wanted to gift us something. We wanted to make sure it was easy and hassle-free for everyone. We accomplished that mission as some of our family members ended up buying us Christmas and birthday presents from the list too!
What Was Your Favourite Wedding Gift And Why?
My favourite items are the matching chrome Smeg kettle and toaster, our Wedgewood dinner set and a sweet little bee toast rack. Tom's favourite is the Luna Home drinks trolley!
How Did Having A Gift List Help You To Create Or Upgrade Your Newlywed Home?
The gift list helped us to choose high-quality items from a wide range of well-known brands for our future home. It was great having everything all in one place and lots of inspiration to guide our thinking about what we might need.
Why Did You Choose The Wedding Shop?
We chose The Wedding Shop because of their excellent award-winning reputation. And because of the flexibility they offered. The Wedding Shop had the biggest range of brands available of all the other major gift lists. And they allow for cash gifts, honeymoon contributions and group gifts. You can also change the items on your list at any point. After a lot of research, there was no doubt that The Wedding Shop was the perfect wedding gift list for us.
Create Your Gift List