Home Styling & Trends
Easter Table Décor: How To Celebrate Easter In Style
We've collaborated with wedding planners, Pink Palms, to bring you the ultimate Easter table décor inspiration. Read on for ideas on how to celebrate Easter in style.
2 Min Read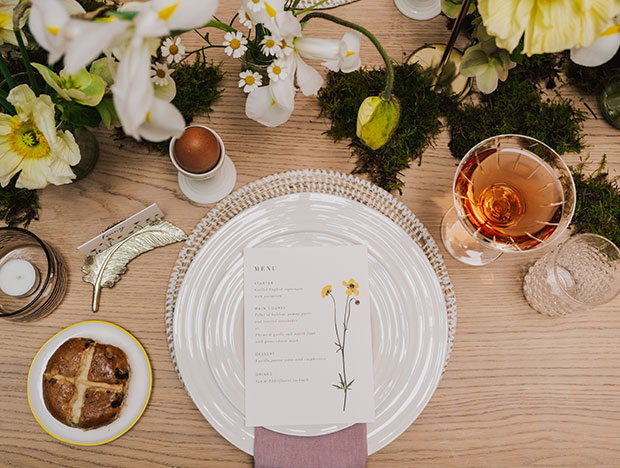 To bring you the ultimate Easter table decor inspiration, we've collaborated with wedding planners, Pink Palms, to style our Townhouse dining table. Read on for ideas on how to celebrate Easter in style and be inspired by gorgeous wedding gifts to add to your wedding gift list.
Perfect Your Tablescape Techniques
As The Home of Gift Lists, we know a thing or two about perfecting your tablescaping techniques. And we have everything you need to do it well, from brushed gold cutlery to feather name cardholders. If you're in the early stages of wedding planning, your wedding gifts may not have arrived in time for Easter. But you can plan ahead and add these gifts to your list for future soirees.
Eat Eggs For Breakfast, Lunch And Dinner (Mainly Chocolate Eggs)
Chocolate fans, this one is for you. Easter is synonymous with chocolate and you won't find us complaining. But have you ever wondered why we actually eat eggs at Easter? Eggs are a potent symbol of life adopted by early Christians as a symbol of the resurrection of Jesus Christ on Easter. Chocolate eggs are a modern twist on the religious ritual. Our brand partners Hotel Chocolat sent us this egg for the occasion. It came filled with champagne truffles to add that extra wow factor to our Easter table decor.
Plan An Easter Egg Hunt
Take a break from wedding planning and bring back everyone's favourite nostalgic tradition of an Easter Egg hunt at home. Wedding planning can be a whirlwind, so it is really important that you take a break from it all and do something you both enjoy together. Dedicate a day to wedmin, but make sure you factor in time to relax and enjoy 'you' time too.
Treat Yourself To Champagne 
Easter is a time to celebrate with loved ones. Are you still revelling in that blissful engagement bubble? Why not raise a glass of the good stuff to celebrate? When we say good stuff, we mean a glass of the radiant and romantic Moët Rose. Poured into a classic cut crystal glass from our blush and blue Hoxton collection. This is what Easter table decor dreams are made of.
Have A Feast 
It wouldn't quite qualify as the ultimate Easter table decor inspiration if we didn't mention food. And it wouldn't really be Easter if hot cross buns weren't involved either. But to bring you something a little more decadent, we've collaborated with Caviar and Chips to bring you four Easter menus to cook at home.
PS. Why not complete your menu with stationery from Papier? We have collaborated with Papier to offer you an exclusive 15% off all your wedding stationery ordered through their site. 
Add The Look To Your Gift List
If like us, you've fallen in love with this easter table decor, why not add it to your gift list? From gold feather place card holders and rattan placemats to powder pink tapered candles, these gifts can be used to set the table throughout the year.
Photography: Lisa Jane Photography | Styling: Pink Palms Events | Florals: Bud Flora