Buying Guides
The Ultimate Bakeware Buying Guide
Every kitchen needs a quality collection of bakeware. But where do you start? Our expert bakeware guide will take you through the key things to consider.
6 Min Read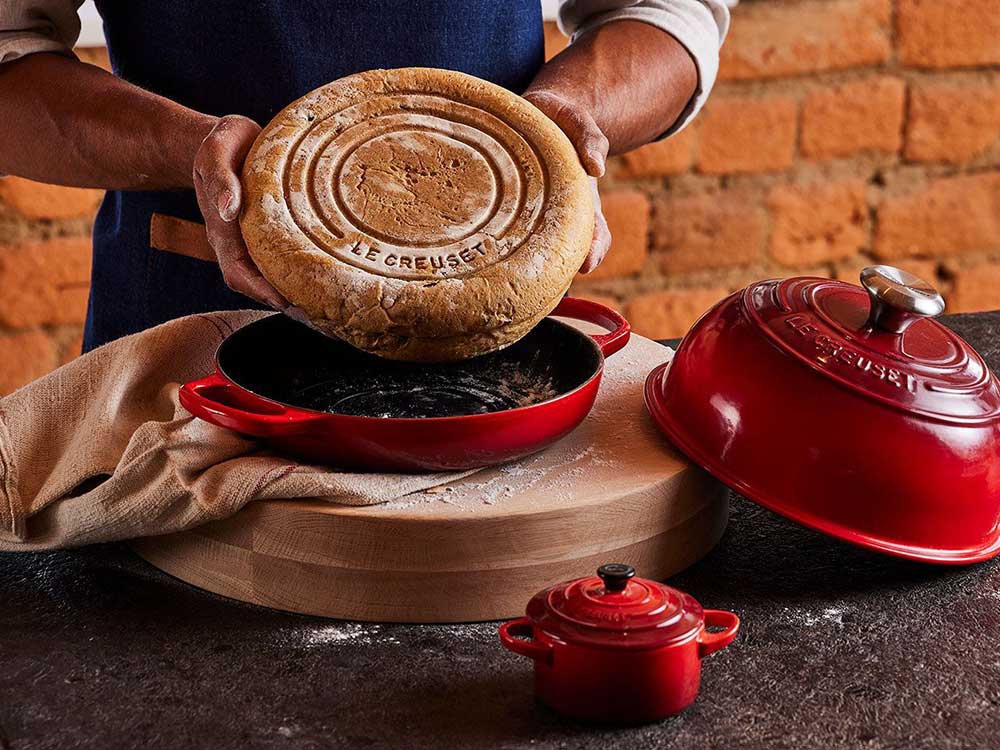 Whether you're training to become the next bake-off star or are a complete novice, it's essential to have a good collection of bakeware. From baking types and materials to how to keep your oven trays and pans in tip-top condition, our ultimate bakeware guide has you covered.
Your wedding gift list is the perfect place to upgrade your bakeware too. Swap out your old rusty trays for something a little shinier! Or why not look for bakeware that can transition effortlessly from oven to table? Think intricately embossed stoneware bakeware. Or, even a mistletoe heart baking dish for when you surprise your love with a recipe straight from the heart.
The Bakeware Essentials Every Home Cook Needs
Quiche & Flan Pans
These tins are ideal for pies, flans and quiches and are usually round with fluted sides. Some quiche & flan pans have a removable base, allowing easy removal of your freshly baked goods.
Muffin & Cupcake Trays
These are trays with multiple round moulds to hold your cake batter. The moulds provide the perfect structure for your cake batter to cook and rise upwards to form a muffin.
Yorkshire Pudding Tin
A tray made of circular moulds and used to hold batter - similar to a cupcake pan. However, Yorkshire pudding moulds have a larger diameter and a shallower depth.
Baking Stone
Baking stones or pizza stones can go on the hob or in the oven. Designed to recreate the effect of traditional hot stone cooking, baking stones are made of materials that can withstand extreme heat, such as cordierite stone, ceramic or terracotta. Baking stones provide even heat distribution, draw moisture away and are perfect for creating a crisp, thin crust.
Oven Trays
Oven trays or baking trays are ideal for biscuits, pastries and other goods that don't require a mould. They're a must have in the kitchen and can be used for roasting and baking.
Roasters and Racks
Roasters are square, rectangular or round in shape and are perfect for roasting meat or vegetables. Excellent quality roasters will come with a rack attachment - a wireframe that sits inside the roaster. This wireframe suspends your food, allowing fats and liquids to drip into the roaster.
Cake Tins 
Cake tins are containers used to bake cakes of various shapes and sizes! Your recipe should specify the cake tin size, but the standard size is usually 20cm or 23cm in diameter. It's important to note that if you use a different cake tin size than specified in your recipe, you may need to adjust your baking time.
The Three Main Types Of Cake Tins
1. Basic Cake Tins
Basic cake tins are made from one piece of material that will form the shape of your cake. Basic cake tins can come in different shapes, from round to rectangle or square. Removing delicate bakes from this type of cake tin can be a little tricky, so it's best to line or grease them before you bake. 
2. Loose-Based Cake Tins
Loose-based cake tins have a removable base which sits securely into the diameter of the cake tin. The removable base makes it easier to release your freshly baked cakes from the mould. 
3. Spring-Form Cake Tins
Spring-form cake tins are similar to loose-based but have a ring feature that allows the sides and base to be secured and released.
Bakeware Materials
Metal
Metal is an excellent heat conductor, making it a popular choice for bakeware. It is also highly durable. Metal bakeware comes in various types, from aluminium and steel to metal alloys such as carbon steel. Each type of metal will have a different effect on your baked goods.
Hard-Anodised Aluminium
Hard-anodised aluminium refers to the process where, during production, aluminium oxide is produced on the surface of the aluminium bakeware to seal it. This process prevents the aluminium from reacting and leaking into your food. Hard-anodised aluminium bakeware is very durable, resistant to rust and great for even heat distribution.
Best quality: highly durable
Care instructions: hand wash using metal-safe detergents.
Cast Iron
Cast iron bakeware is heavy but very durable. This type of bakeware is renowned for its excellent heat retention but can heat unevenly. Cast iron bakeware is most commonly used to bake recipes such as bread, casseroles and other hearty dishes that require consistent and steady heat. It's also perfect for recipes that start on the hob and move to the oven. 
⁠⁠Best quality: hob-to-oven cooking and heat retention
Care instructions: season and hand wash with non-abrasive cleaning agents.
Stainless Steel
Stainless steel is made from a mixture of metals. The properties of stainless steel bakeware will differ depending on the percentage and quality of the metal used in its production. Stainless steel is a popular material for bakeware as it is affordable, doesn't rust or tarnish and is easy to clean. It's also excellent at browning foods, from roasts to cookies.⁠
Best quality: non-reactive and resistant to corrosion
Care instructions: dishwasher safe
Aluminized Steel
Aluminium paired with steel produces a highly durable material that is excellent for baking. Aluminized steel bakeware is non-corrosive, maintains heat excellently and prevents your baked goods from sticking to its surface.
Best quality: heats quickly and uniformly
Care instructions: avoid metal utensils and hand-wash
Carbon Steel
Carbon steel, pressed from heavy-gauge steel, is a highly durable material. It will, however, need regular seasoning to maintain its durability. Carbon steel bakeware is also an excellent heat conductor and can maintain low and high temperatures. 
Best quality: extremely durable if cared for properly
Care instructions: regular seasoning, hand-wash only and avoid soap.
Ceramics
Ceramic is the broad term given to products made from clay. Ceramics include materials such as stoneware and porcelain. Both these materials are excellent at holding heat but not so good at transferring heat to baked goods. As a result, stoneware and ceramic bakeware are perfect for recipes such as casseroles, gratins and puddings.
Best quality: holds heat excellently and looks lovely on the table.
Care instructions: dishwasher safe if not hand-painted
Enamelware
Enamelware bakeware is porcelain fused onto heavy-gauge steel. This material is highly durable, cannot burn and is non-reactive. Enamelware bakeware is best for roasting but can work excellently for baking too.
Best quality: hard wearing
Care instructions: dishwasher safe
Silicone 
Silicone bakeware is naturally non-stick and flexible, making it an excellent option for foods that usually stick. Silicone bakeware is also resistant to stains and odours. However, this material doesn't conduct heat well. So, bear this in mind when baking because you'll need to adjust your cooking temperature accordingly.
Best quality: freezer/fridge and oven safe
Care instructions: dishwasher safe
Glass
Glass bakeware is non-reactive, so you don't need to worry about harmful substances leaking into your food. Bakeware made from glass will take a little longer to heat up, so make sure to factor that into your bake time.
Best quality: non-reactive
Care instructions: dishwasher safe
Cleaning and Storage
Seasoning
Certain materials, like cast iron or hard-anodised aluminium, require seasoning. Seasoning is the process of coating the surface of your bakeware with heated oil to protect it. Seasoning your pan is also essential to stop food from sticking to its surface. 
To season your bakeware, clean it by gently washing it with warm and soapy water. Then, gently warm your bakeware and run a small amount of oil on its surface. Make sure the entire surface is covered. Let it cool and rub off any excess oil. You don't need to repeat this process with every use, but it is best to season occasionally.
Cleaning
Your bakeware will come with care instructions from its supplier, and it's always best practice to follow these. Here are some additional tips to help prolong your bakeware:
Cleaning with wire tools may damage the cooking surface.

Avoid soaking metal bakeware because this may cause corrosion.

Using non-stick sprays will gradually build up and damage your bakeware surface. Instead, use parchment paper or tin foil. 

Ensure your bakeware is cool before cleaning.

Even if dishwasher-safe, hand washing your bakeware will prolong its quality.
Storage
Store your bakeware in a dry setting. If you need to stack your bakeware, place a paper towel between each pot, pan or tray to prevent the surface from scratching.
Frequently Asked Questions
Which Bakeware Material Is Best for All Baking Goods?
Hard-anodised aluminium is the most popular material for bakeware. It is durable, affordable, won't react with foods and can be used to make many different types of bakeware, from cake tins and trays to roasting pans.
Which Brand of Bakeware Is Best?
All our bakeware brands at The Wedding Shop have been carefully selected based on quality. However, when it comes to the best brands, two brands stand out due to the variety of bakeware products they sell - and at a standard fit for any professional baker! 
Le Creuset and Masterclass have paved the way for excellent quality bakeware for generations. Le Creuset are experts at designing beautiful bakeware in various colours, centred around increasing flavour. From their signature cast iron bread oven to a heavy gauge carbon steel round springform cake tin, you can find pretty much any product to serve your baking needs.
Similarly, Masterclass is renowned for making practical bakeware of excellent quality. Passionate about food, their bakeware collection features a variety of sizes, styles and finishes to suit recipes from roasts to desserts. 
Do You Have To Grease Silicone Bakeware?
Nope! Good quality silicone bakeware shouldn't require any greasing. This means that your bakes  will be a little healthier as no extra butter or oil is required.
Best Bakeware Set
Smart Space 7 Piece Bakeware Set, Master Class
Designed with function and multipurpose baking in mind, this bakeware set from Master Class will serve you well. Consisting of a roaster, two deep cake tins, one sandwich tin, a quiche tin, raised flan tin and a shallow baking sheet, it has everything you need to become a star baker! Each piece is ultra-sleek with space-saving features to ensure you can easily store it away. 
Best Silicone Bakeware Brand
When it comes to silicone, the French brand Silpat is our go-to. Inspired by baker Monsieur Guy Demarle in 1965, Silpat has built a reputation for unique baking mats and moulds made from silicone. Silicone mats and trays provide easy removal of baked goods due to their flexible qualities and are simple to clean - simply place them in the dishwasher or wipe clean with a cloth.
That brings us to an end. We'll now leave you with all the information you need to select the best bakeware for you, whether you're a master of cakes or are preparing to become the star of hosting a Sunday roast.
Bakeware