Buying Guides
Buying a Barbecue: A Complete Guide
Buying the perfect BBQ is easy with our expert guide. From gas and charcoal barbecues to pizza ovens, there's something for every outdoor space.
3 Min Read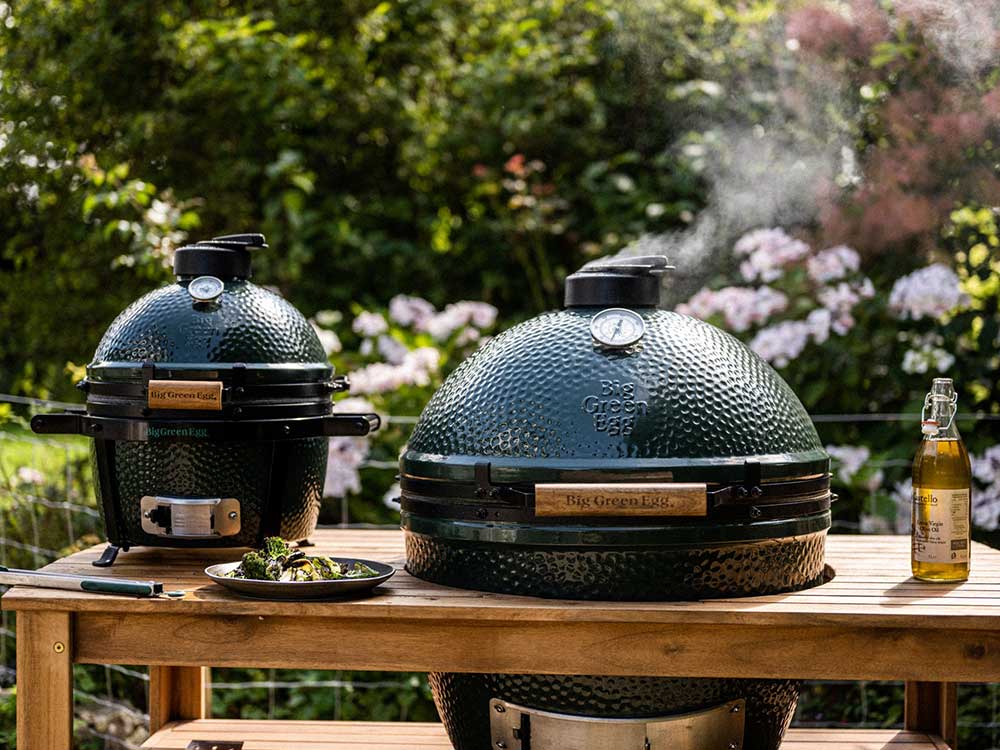 The barbecue is the master of alfresco cooking and all things chargrilled. It's good for so much more than just hotdogs and burgers... think chargrilled aubergine, honey-glazed ribs, rum-glazed grilled pineapple, and zingy, smoky prawn skewers. But before you start grilling up a storm, you'll need to buy the right barbeque for your lifestyle. Discover your perfect grill and how to care for it with our expert BBQ buying guide.
Things To Consider
How Often Will You Use Your Barbecue?
Frequently
If you're a chargrill-fanatic foodie and plan on using your barbecue whenever you can, rain or shine, we recommend investing in something a little more spenny. Premium barbecues are worth the money. They'll last for years and withstand rainy weather. And if you add it to your gift list, guests can even come together to pay for the cost using the handy group gifting option.
Every Now And Then
If you're planning on using your barbecue occasionally or just during the summer, there are many affordable options at The Wedding Shop that would suit you well. From portable BBQs and fire pits to classic webers, these barbecues are easy to set up, clean and store away.
Types of Barbecues
Gas Barbecue
Gas-powered barbecues are fast and easy to power up. They are typically a little more expensive, but for good reason! Gas BBQs are excellent for cooking food evenly. They require little maintenance and are easy to clean and adjust the temperature. If you're a keen griller, then a gas barbecue might just be the one for you.
Charcoal BBQs
Barbecues powered by charcoal are a popular choice for many! They are renowned for creating that classic, criss-cross aesthetic and smoky flavour. Charcoal BBQs can also reach higher temperatures than gas BBQs. However, you may need to spend a little more time perfecting your lighting technique.
Kamado BBQs
Originating from Japan, Kamado barbecues are known for their versatility. Fuelled by wood or charcoal, Kamado BBQs are perfect for grilling, roasting, baking, smoking and pretty much anything! Another great option for the keen outdoor cook, it will serve you well throughout the seasons. 
Portable BBQs
For those who want to grill-on-the-go, portable barbecues are a must-have wedding gift. These are a welcome replacement to disposable trays - they're not only more efficient, but more environmentally friendly too. Perfect for bringing along on all your outdoor adventures!
Pizza Ovens
Recreate the same flame-cooked flavour you get from your favourite Italian pizzeria but from the comfort of your home with a pizza oven. They come in various shapes and sizes and are fuelled by gas or wood. Gas is great for cooking pizza quickly, whereas a charcoal pizza oven will produce a smokier flavour.
Smokers
Get that mouth-watering smoked flavour with a smoker barbecue. Fuelled by charcoal, wood, electricity or gas, smoker BBQs are perfect for foods that require slow cooking at a low temperature. Many barbecues have a smoke feature to combine grilling, smoking and roasting all in one. 
Cleaning & Caring for Your BBQ
Gas Barbecues
Always refer to your manufacturer's cleaning instructions. They will advise you on the best ways to clean your specific barbecue.

Always clean the rack, lid, drip trays and gas burner before storing your BBQ away. 

A slightly warm BBQ will make it easier to remove tough grime.

To remove food build-up, brush and scrub the grates and rinse with soapy water. Then leave aside to dry. 

Consider purchasing a cover to protect your BBQ from weather damage.
Charcoal Barbecues
Always refer to your manufacturer's cleaning instructions. They will advise you on the best ways to clean your specific barbecue.

Wait for your charcoal BBQ to cool before cleaning. Then remove the grill rack and brush and scrub the grates with a wire brush. Wash clean with soapy water. 

Regularly clean the rest of your barbecue with an oven or grill cleaner. 

Remember to remove the ashes to avoid corrosion.

Wash the exterior with warm, soapy water and rinse thoroughly.

Consider purchasing a cover to protect your BBQ from weather damage.
Assembling And Positioning Your BBQ
Choosing the best position for your barbecue is something you may or may not have considered. It's important to factor in the wind direction when picking your perfect BBQ spot. You'll also want to be close enough to the kitchen to bring food back and forth easily but far enough not to fill your house with smoke! And if you're looking to create an outdoor haven, check out our Garden Essentials collection. From fairy lights and lanterns to stylish weatherproof furniture, explore gifts to turn your garden into the perfect spot for alfresco dining.
barbecues