Culture & Lifestyle
Top 10 Romantic Getaways To Book On Airbnb UK
We've teamed up with Airbnb UK to find the most romantic honeymoon & minimoon destinations in the UK – check out the list and start planning your trip now!
5 Min Read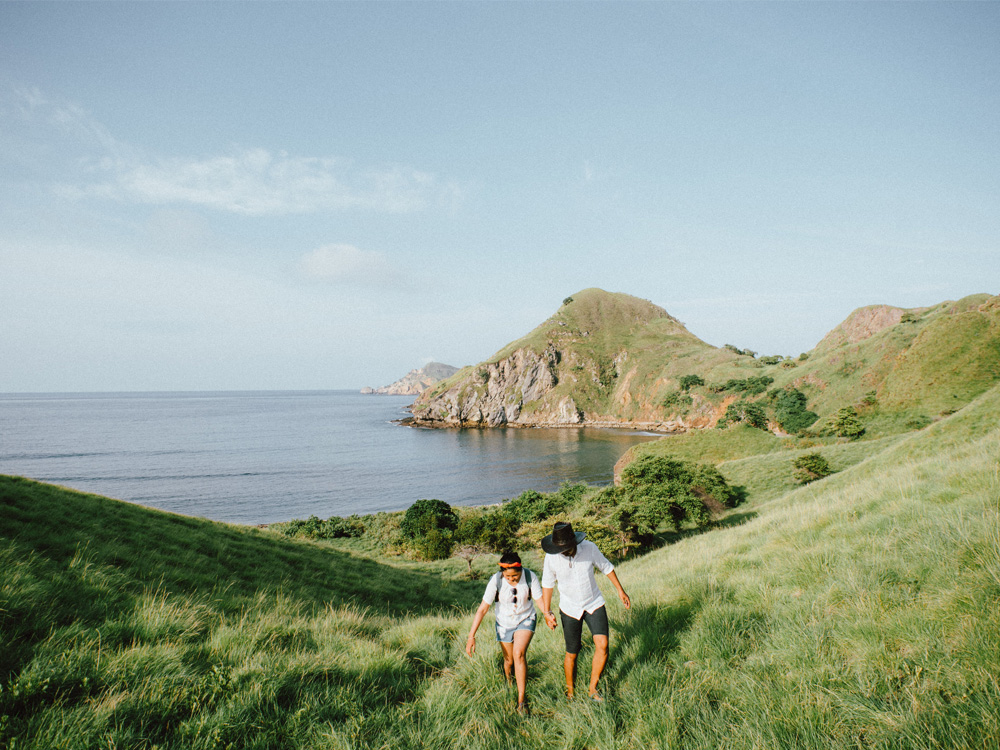 It's no secret - wedding planning is hard work. After months, or sometimes years, of careful planning and preparation, it can feel like your dream day is all over in the blink of an eye. So, in our experience, it pays to have something exciting to look forward to after your wedding day.
Whether that's opening up all the gorgeous gifts you added to your wedding gift list or heading off together on a lavish, romantic honeymoon... Well, we have good news on both fronts - we've recently partnered with Airbnb UK so you can now add Airbnb vouchers to your gift list! 
Amounts range from £25 up to £500, so there are gifting options to fit every budget. And you can use them on your honeymoon, minimoon or even to plan a romantic minibreak to mark your first wedding anniversary!
To celebrate this new partnership, we've put together a list of our top 10 most romantic places to stay on Airbnb UK… just to give you a few ideas.
What is Airbnb and how does it work?
Airbnb is a property-sharing platform. It's designed to connect travellers looking for unique and unusual places to stay – UK or abroad – with property owners who have spaces to spare. The whole booking process and all payments are handled online by Airbnb, so you know it's simple, safe and secure. And the best part is, these cool, quirky stays come with expert local hosts who can point you in the direction of all the best places to visit, eat and drink during your stay.
So, what are you waiting for? ... Let's get planning!
Romantic Airbnb UK: Southeast England
Secluded Treehouse Retreat
Where: Elham, Kent
Sleeps: 2
Price per night: £120
Ever fancied spending the night 20ft up in the trees? How about having your own private treehouse for the night? When it comes to unique places to stay in the UK, this one is way UP there (if you'll pardon the pun)! Nestling between three ancient oak trees & looking out over uninterrupted countryside views across the North Downs – a designated area of outstanding natural beauty – this Airbnb treehouse in the UK is a real hidden gem.
The Pigsty
Where: Winchester, Hampshire
Price per night: £209
Sleeps: 2
And while we're on the subject of quirky places to stay in England, how about a luxury pigsty? … No, really! This unusual Airbnb in Hampshire offers a cosy woodland hideaway with stunning views across a working farm. 
But just because it's a pigsty on a farm, does not mean that you'll be roughing it. This unique wood cabin offers an extravagant king-size bed, freestanding rolltop bath, wifi & a BBQ… where do we sign up?
Romantic Airbnb UK: Southwest England
The Crow's Nest
Where: Millbrook, Cornwall
Price per night: £300
Sleeps: 2
We can't talk about Airbnb UK breaks without mentioning at least one seaside retreat. And this outstanding Airbnb Cornwall has to offer is the ideal example. Imagine waking up in a super king-size bed and looking out across a stunning ocean panorama as you drink your morning coffee… sounds nice? What if there was also a freestanding cast iron bathtub AND your own private sauna complete with a sea view?... run, don't walk.
Fingals Folly
Where: Dittisham, Devon
Price per night: £294
Sleeps: 2
If you've ever wanted to escape to the country – Devon in particular - then this could be the place for you! A stunning, self-contained holiday home for two, complete with rolling hills, a cosy wood burner, a vintage record player and a private outdoor cuddle chair overlooking a beautiful babbling brook… this is about as charming as it gets! 
You also get access to a shared pool, sauna, games room and grass tennis court. And to top it all off, it's a dog-friendly Airbnb, so your four-legged friend can enjoy the holiday & excellent local dog walks with you!
Romantic Airbnb UK: Wales
Seren Bach Dome
Where: The Brecon Beacons
Price per night: £126
Sleeps: 2
If you're browsing Airbnb UK for something a little bit special… Seren Bach in the beautiful Brecon Beacons could be the perfect glamping pod for you! A luxury, dog-friendly geo-dome complete with log burner, private hot tub and 5m panoramic view across the mountain landscape - unusual weekend breaks in the uk don't come much more fabulous than this! 
Oh, and did we mention, this area holds dark sky reserve status, so you will have a spectacular view of the stars as you sip your bubbly in the hot tub or lounge in bed (yes – you read that right - there's a cheeky ceiling window)!
Mountain Top Traditional Gypsy Caravan
Where: Machynlleth, Powys
Price per night: £90
Sleeps: 2
Speaking of quirky accommodation, how about staying in your own private gypsy caravan? Parked up in the peaceful Welsh countryside, this gorgeous caravan has been lovingly constructed and renovated on an original 1920s frame. 
The stunning interior is super-cosy and full of hand-carved and hand-painted details. While the exterior offers your own private wild garden complete with incredible country views in every direction. It's the perfect place for a cosy couple's retreat.
Romantic Airbnb UK: Northern England
Far Boathouse
Where: The Lake District
Price per night: £375
Sleeps: 2
A stunning scenic holiday home, right on the water's edge! If you long for a romantic lakeside retreat, you'll simply adore the Far Boathouse. The views across the lake to the surrounding hills are utterly breathtaking. And you can enjoy them while cosying up on the sofa inside or relaxing outside on your own private balcony. 
The Airbnb hosts here really know what they're doing when it comes to romantic minibreaks – you'll arrive to a nice bottle & a box of chocolates along with a king-size bed strewn with rose petals… utterly dreamy!
The Mallard At Baywood Cabins
Where: North Yorkshire
Price per night: £140
Sleeps: 2
For any fantasy fans out there, this place reminds us of a cross between a hobbit hole and Hagrid's hut… if Hagrid had adorable taste in cosy décor and a luxurious wood-fired hot tub that is! Set in the stunning Yorkshire countryside, this place is a haven designed to help you relax, unwind and reconnect – ideal for a minimoon or a romantic weekend away! We think it's one of the most adorable and unique stays in the UK.
Romantic Airbnb UK: Scotland
16th Century Dovecote Cottage
Where: Central Edinburgh
Price per night: £225
Sleeps: 2
Ancient and quirky yet utterly cosy and comfortable. If you're looking for unique places to stay in the UK – this 16th-century dovecote cottage is truly one of a kind! Conveniently located in central Edinburgh yet tucked away in a secluded spot in a private garden, this place feels like your own hidden fairytale tower.
The cosy bedroom is set at the top of the tower, surrounded by ancient dove-nesting boxes. And downstairs features a rustic kitchen-living area complete with wood burning stove, as well as a sleek modern bathroom with a walk-in rain shower!
Queen Mary's Chamber
Where: Scottish Borders
Price per night: £407
Sleeps: 2
And finally, what could be more magical than having your own private castle for the night? When you book a stay at ancient Neidpath Castle, you'll have the whole place to yourself! That's right – the WHOLE MEDIEVAL CASTLE to explore at your leisure. And you'll be staying in the very chamber occupied by Mary Queen of Scots in 1563! 
The luxury suite features an extravagant four-poster bed, a deep roll-top bath and a working fireplace. It is truly one of the most romantic and special places to stay in the UK. P.S. They also do weddings, so if you're in the market for a magical venue for your big day, give them a call!
So, there you have it. If you've been inspired by our list of the most romantic minibreak spots in the UK, why not add some Airbnb vouchers to your wedding list today?