Wedding Inspiration
Ally & Nick's Gift List and London Wedding
Ally & Nick talk to us about their wedding gift list experience. Including how they planned the most incredible Brixton wedding! Take a sneak peek.
4 Min Read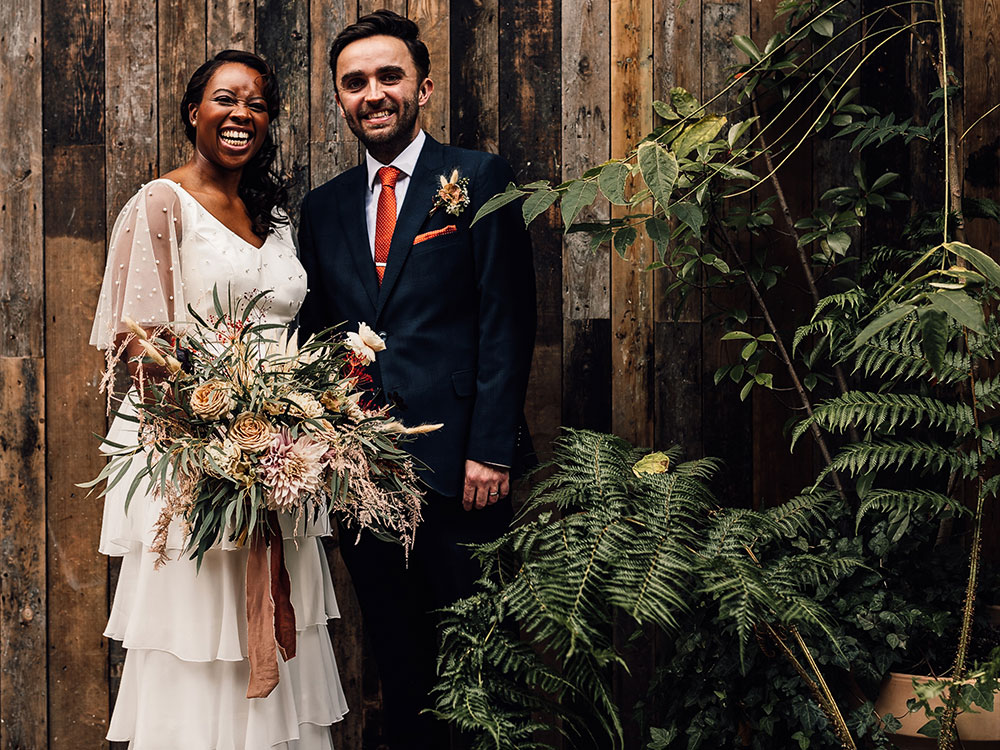 Ally and Nick's Brixton wedding was an incredible celebration of cultures. They planned their day their way, from a bespoke menu to vivid pops of colour (take a look at those burnt orange bridesmaid dresses)!
We had the pleasure of talking to Ally & Nick at our Townhouse in Chelsea, where they took us through the joys of wedding planning. Fusing their love for travel with products to upgrade their home, they built a bespoke wedding gift list. If you're looking for gift list advice or (like us) are blown away by this stunning Brixton wedding, read on.
How and When Did You Meet?
We met while studying Graphic Design at Norwich University of the Arts and instantly became best friends. By the end of our first term, our friends knew we had fallen for each other (despite denying it!). Nick's parent's phone bill proved this too.
How we met is always contested between us - even to this day! There are 'two occasions' we met for the first time, and neither of us can agree which one is right.
How Did You Get Engaged?
In our 10th year together, Nick proposed two days before Christmas in pretty Hội An, Vietnam, at sunrise! It was magical.
Ally & Nick At The Wedding Shop
Tell Us More About Your Wedding Shop Experience.
Building a gift list with The Wedding Shop is a great memory. Their showroom in Chelsea was only a stone's throw away from our home. However, as it was just a few weeks before the Covid lockdown, we debated whether we should go. But we were so glad we did!
We had the best few hours exploring their showroom and meeting the team there. It gave us some happy memories we didn't know we needed to carry us through the gloomy days of the pandemic and re-planning a wedding.
Despite the unprecedented circumstances, The Wedding Shop team made our visit special - including lots of bubbles! The Townhouse is beautiful, and we loved scanning different gifts using the app.
Why Did You Have a Wedding Gift List?
A gift list allows you to build part of your future together, whatever that may be! Whether experiences or those beautiful glasses you've always wanted.
Originally we wanted a mix of traditional gifts. But we're also all about going BIG on experiences. The Wedding Shop gave us a way to combine these. Plus, easily link our gift list to our wedding website.
What Was Your Favourite Wedding Gift and Why?
Oh, that's too hard to tell! All our gifts were bought by our nearest and dearest, and we loved them all. When they arrived, it was like Christmas - round two! Unpacking them definitely eased the wedding blues too.
How Did Having a Gift List Help You To Create or Upgrade Your Newlywed Home?
Hosting dinner parties is something we both love! Our gift list was a way to upgrade our dinnerware and cookware to elevate this experience - including the addition of an incredible feature mirror and statement vases.
Were Your Wedding Guests Pleased You Had a Gift List and Why?
Some of our wedding guests travelled from Australia, Barbados and the USA. Having a gift list meant that these guests could give us something easily that they knew we loved - and not have to lug it from abroad! Many guests could also not make our wedding day due to the pandemic. So, a gift list was a way for them to be a part of our special day. 
What Made You Feel You Could Trust The Wedding Shop?
We'd been working with Rock My Wedding, a sister site of The Wedding Shop, on a podcast and article. Together, we'd been trying to ensure the wedding industry is more inclusive and diverse, especially for Black Brides and inter-racial couples.
We've seen the group change direction and make strides to be more representative of ALL those who want to get married. And celebrate the diverse culture and people we have here in the UK! Seeing is believing.
"Black is equally beautiful; we should not have to question our Blackness because it does not conform to societal norms." - taken from Ally's Rock My Wedding article 'My Experience as a Black Planning Bride'.
Wedding Planning Advice
Celebrate Your Way
When we started planning our wedding, we were determined to reflect both our heritage and us as Londoners. From our Brixton venue to using a local florist and having a bespoke menu, we wanted to celebrate our way! Especially after having to wait an extra year due to the pandemic.
Best Advice
Georgie, our maid of honour, gave us some advice that we found super helpful: "Remember, this is your wedding! Don't be afraid to ask for advice, but you don't need to use it. Once you've nailed your venue, food, photographer and music, plan two to three things for your wedding each month.
Another lovely thing to do is book one nice meal together the week before your big day - it's a great way to absorb the fact you're about to have the most epic day ever. Enjoy the build-up, and have fun with it!"
Ally & Nick's Brixton Wedding
Inspiration and Styling
We had our wedding day at 100 Barrington, a chilled venue in London with Caribbean roots. Throughout the day, bright pops of colour complimented the urban surroundings of Brixton, from our burnt orange bridesmaid dresses to a giant street art rainbow motif. 
We represented ourselves, as a couple, in everything. We had his (Espresso Martini) and her (Eastern Standard) cocktails, creating excitement with our guests. The whole ceremony was a spectacular fusion of cultures, from the music and food to our Black Cab wedding transport!
Our menu for the day was completely bespoke, designed for us to reflect our heritage, upbringing and worldly travels together. It even included rum punch and fans as wedding favours, a nod to Barbados.
What Is Your Favourite Wedding Day Memory?
⁠I loved dancing back down the aisle as a married couple to 'Signed, Sealed and Delivered, I'm Yours.' Plus, arriving in a Black Cab at our wedding venue. Nick said seeing me walk down the aisle for the first time was truly special too. And we both loved our speeches! We spoke alongside our Best Man and Maid of Honour. We could go on...everything was so perfect.
What Does Love & Marriage Mean to You? 
We've fallen, we've failed, feared and dreamt together. Love is a constant journey that takes work, but it's so much fun!
Marriage is a celebration of us: the ups and downs. Our growth. The laughs on the sofa. Our epic every day and finding our own rhythm together. Marriage is us being us - laughing at each other's terrible jokes. It's so joyous to spend time with each other every day.
Wedding photos by Carrie Lavers Photography