Wedding Inspiration
Romantic Marquee Wedding And Satin Wedding Dress
Take inspiration from Alexandra Dudley and Frederick Hall's utterly romantic marquee wedding, and learn how to plan your own. Including a look at Alexandra's bespoke wedding dress.
3 Min Read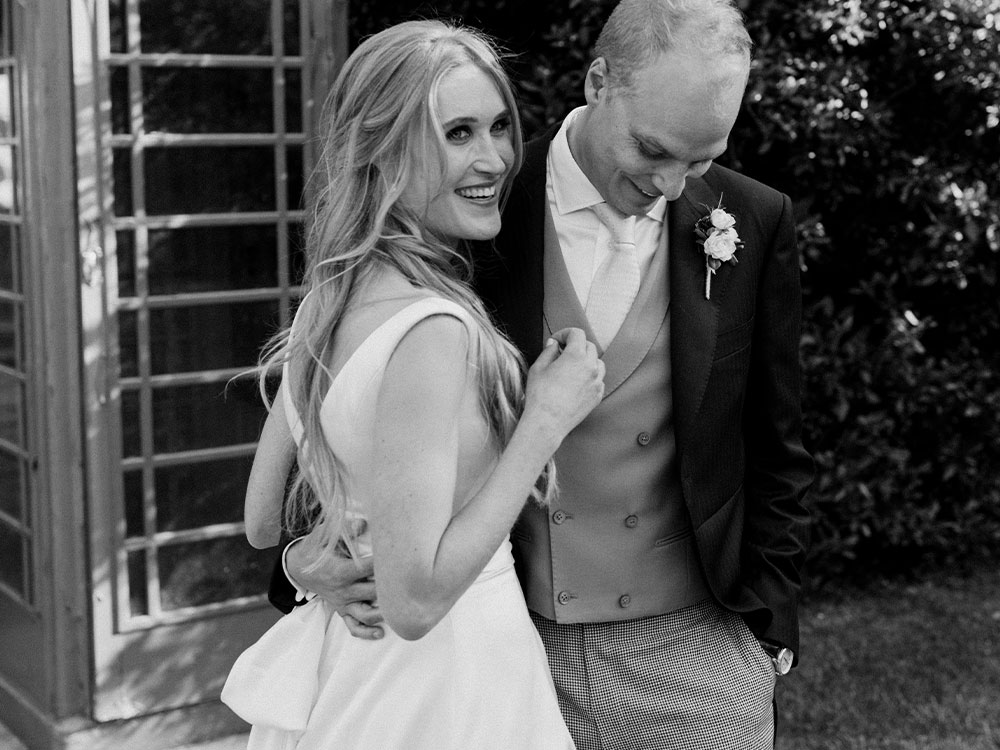 "I felt like I was floating," says food writer and journalist Alexandra Dudley, who married Frederick Hall in the Spring of 2022. This real Wedding Shop couple's beautiful (emphasis on beautiful) day oozed romance, from Alexandra's bespoke satin wedding dress to their marquee evening reception.
The Dress
Alexandra walked down the aisle in glistening Jimmy Choo shoes, wearing a classic satin wedding dress designed by Phillipa Lepley. She opted for a timeless duchess style with an elegant neckline, a beautiful sash and a veil hand-embellished with delicate daisies. Dreamy.
The Wedding Marquee
A seasonal flower arch welcomed guests to their luxury marquee wedding reception, housed in a stunning garden venue. Marquees come in all different sizes and styles, making them the perfect choice for a creative couple. They're a blank canvas to which you can add your personal style (budget permitting, of course). Think floral arches, chandeliers, draping fabrics, lanterns, bunting - the list goes on!
The Breakfast Table
Described as a "serial dinner party host", Alexandra is a true entertainer. And her wedding day stole the show. Seated at a breakfast table adorned with local blooms in blushes and lilacs, Alexandra and Freddie treated their guests to a menu catered by seasonal food experts, Social Pantry.
Do you love entertaining too? Alexandra and Fredrick used their gift list with The Wedding Shop to elevate their love for entertaining friends and family. From Gien crockery to William Yeoward crystalware, their registry was any host's dream. Make sure to read about their gift list experience. Plus, Alexandra Dudley's best tips for hosting an unforgettable dinner party.
The Party
With full bellies and hearts, guests could make their way to a second marquee which became the stage for the evening. A stylish bar, floral garlands and delicate fairy lights created the ultimate party atmosphere - live music included.
How To Plan Your Own Garden Marquee Wedding: What To Consider
First things first, how do you want your garden marquee to look? There are many different styles available, from sailcloth tents and teepees to canvas marquees.
Traditional Marquee
Traditional marquees are canvas based and rectangular. They are only suitable for flat, grass terrains. They are best for the summer seasons when the weather is mild with no strong winds. Traditional canvas marquees are perfect for an English-style wedding and have wonderful high ceilings. 
Sailcloth Tents
Sailcloth tents are very similar to a traditional marquee but are typically white. They have a softer look with curved ends and window walls. 
Stretch Tents
Stretch tents are another adaptation of the original canvas marquee but made from 100% waterproof fabric. They are an incredibly flexible option - they can be stretched into any shape and come in many sizes. However, due to the curved roof design, you won't get full head height throughout the space.
Tipis
Tipis create the ultimate boho feel with their rustic style and are a good option for a more intimate wedding. Accessorise tipis with festoon lights and candles to create a romantic, cosy atmosphere. You can join multiple tipis together to accommodate a larger guest count too.
Clear Marquees 
If you love the glasshouse wedding vibe, consider a clear marquee. Clear marquees look super contemporary and let heaps of natural light through. They come in a range of materials, from plastic to glas
The Season
When do you want to get married? Spring and summer are the most popular seasons for marquee weddings. Think green lawns, soft sunshine and blue skies. Dreamy. 
However, it's still important to consider the practicalities. If the weather is hot on the day of your wedding ceremony, you'll want a marquee that has good ventilation. Consider one with adjustable sides that you can lift to let a breeze through.
If you're planning an autumn/winter wedding, there are a few more practicalities to think about. Firstly, heating. When you enter your marquee, you'll want it to be warm and toasty.  You'll need adequate heating and someone there to pop it on early in the day. Secondly, the colder seasons can be a little dark, so you'll want to prioritise lighting. You can have fun with this and create a cosy, romantic atmosphere.
The Supplier
Once you've decided on the style and size of your marquee, be it for a luxury or a rustic marquee wedding, you'll want to find a supplier. You can either hire a marquee for a suitable location or find a wedding venue that offers permanent marquee fixtures on-site. The latter requires less logistic work on your part. Check out these fantastic marquee wedding venues recommended by our sister company, Rock My Wedding.
If you're planning a marquee wedding in your garden or other outdoor space, there are a few more things to consider. Discuss your location with your marquee company to make sure it's suitable. You'll need to think about accessibility, water, electricity, parking and the terrain too.
Wedding photography by The Curries
Start Your Gift List