Wedding Inspiration
William and Jonathan's Hampton Court Palace Wedding
Learn how William and Jonathan planned their beautiful Hampton Court palace wedding. Plus, their best tips to build a gift list that's just as grand.
3 Min Read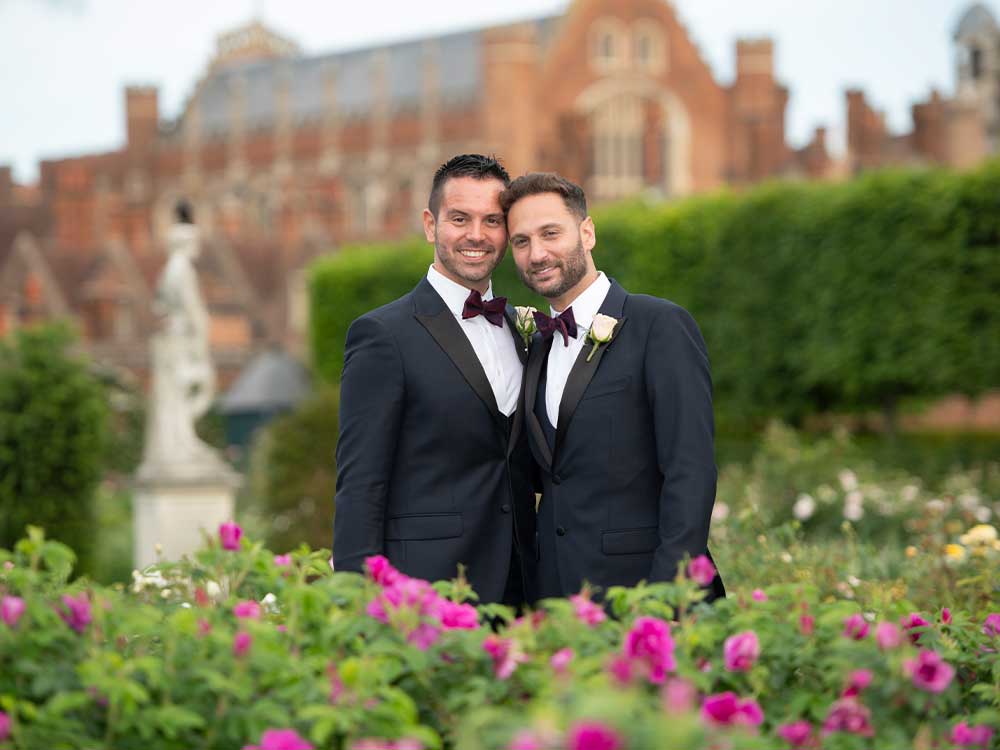 A Hampton Court Palace wedding, did you say...? Yup! William and Jonathan chose all things grandeur for their special day, and we're so glad they did! Located on the beautiful grounds of Hampton Court Palace, they tied the knot in a baroque palace surrounded by 60 acres of magnificent gardens.
But, when asked what made their day special, it was less about their stately setting and more about the people who shared their day with them. 
Read on to learn how William and Jonathan made their wedding dreams happen and their best advice for building a wedding gift list that's just as grand.
William & Jonathan's Palace Wedding
Styling & Inspiration
We had a lovely florist who introduced stunning seasonal flowers to our wedding styling. But we actually didn't focus too much on a styling theme. Luckily, a Tudor palace stands out on its own!
What Made Your Wedding Day Unique?
We got married in a palace! But what made it even more unique was our friends and family that filled the venue. The feeling of love in the room is still impossible to articulate but something we will never forget.
Your Favourite Wedding Day Memory?
It would have to be our first dance (which we got right without any mistakes)! But also the laughter and joy during the speeches. While we knew some of the jokes that came, our guests certainly didn't! There were so many tears of laughter.
What Does Love & Marriage Mean To You?
Love is feeling so deeply that you can't do without that person in your life. They are the only one! And together, love will unite and bond you forever. Marriage is the opportunity to stand up in front of our friends, family and the wider community to declare our commitment to each other. It's being seen as a couple, celebrating our love.
Wedding Planning Advice
William & Jonathans Top Planning Tip
I discovered my inner project manager during the planning of our wedding. As dull as it sounds, a spreadsheet is key to staying on top of everything! Doing this helped us stick to our budget and manage how much we could spend on each guest. Collecting questions and making time to answer them together is important too.
A Grand Gift List To Match The Occassion
Did You Enjoy Building Your Wedding Gift List?
Absolutely! It was especially nice to find items from brands we already knew and loved. There was so much choice! Being able to upgrade the homewares we already had was another big plus. It might sound silly, but we loved building a proper LeCrusset set!
William & Jonathan At The Wedding Shop
What Was Your Experience at The Wedding Shop Like?
A friend, who had a brilliant experience, recommended The Wedding Shop to us. And we had a wonderful experience too! We thoroughly enjoyed our first meeting at The Townhouse. We explored gifts in a home setting that we could add to our list there and then. It was great to be inspired by all the presents we hadn't considered before our visit. 
Our Gift Guru also talked us through the gift-building process and answered any questions, making the whole experience really straightforward.
Why Did You Have a Gift List?
We wanted to take control of the gifts we may receive. As we were getting married a little older, it felt even more important to be able to select the items we truly needed, and those little extras to upgrade our lives.
What Made You Feel You Could Trust the Wedding Shop?
From our very first email and appointment, it was clear that The Wedding Shop team were experts in their field. They made our planning process as simple, smooth and fun as possible!
Create Your Gift List